Rutland Y & M
17 September 2014
National Windsurfing Championships 2014
Rutland Sailing Club
13th & 14th September 2014.
Despite recent pessimism, last weekend saw 223 competitors course racing at Rutland Sailing Club in the National Windsurfing Championships 2014.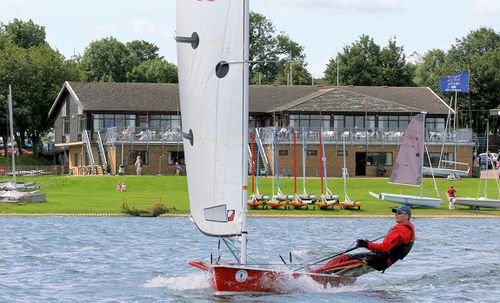 The UKWA and the RYA came together to deliver a vision jointly proposed some 18 months ago.
Combining:
The UKWA Inland National Championships
The RYA Junior, Youth & Masters
The Team 15 Champions Cup
What resulted was an exciting course racing event, with numbers split fairly evenly between two courses, Black for 3.5, 4.5 & 5.8 sailors and Orange for Techno, Raceboard, RS:X & Formula.
The event was not just about the racing but focused on fun with Human Table Football, branded event clothing, dinner and a live band 'Under Construction' playing the sailing club bar.
UKWA Chairman Bob Ingram said 'This is just the beginning, next year we are planning to do this again. We will learn lessons from this years event, and for sure next year it will be even bigger and better. A date will be confirmed soon but plans are in place to take the event to WPNSA in 2015.'