Formula Report - Christchurch
4 May 2015
The opening event of 2015 took place at Christchurch and provided many a talking point. Firstly, the fleet was very happy to see 2 newcomers, both females (1st time in 5 years) and both proving very competitive. Next we had last years winner, Jason Clarke, turning up with no sails having to endure a stressful Friday nights sleep in the hope that their promised arrival the next morning occurred no delays. Dave Coles was missing in action (competing in Europe) and Nick Icke was busy with business. Apart from that the rest of fleet was pretty much as usual.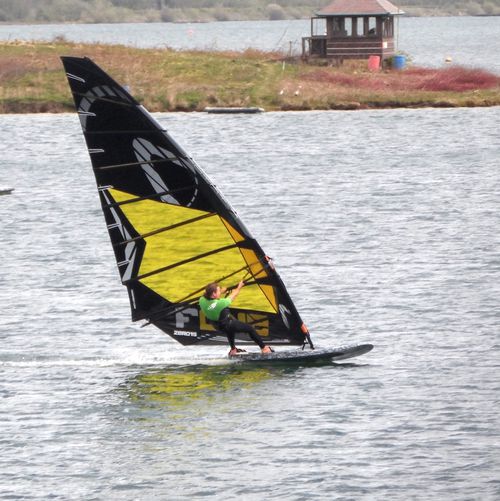 Day 1
Forecast for day 1 was perfect giving a steady 14 knot side shore wind all day and competitors were not let down by the wind god. Mr Clarke was a happy man as his quiver of GA Sails had arrived on time for him not to miss a race. Bad news was to follow though as due to low tides, the race crew had to be off the water by 2.30 so the plan was 2 back to back races with a short break in between.........but we all know what happens to plans! Most people took to the water with somewhere between a 10 and 11m.
Race 1
Training may have taken place over the winter but evidently there had been no opportunity of practising starts. The only person with good timing on race 1 was Chris Bond, on the new Point 7 sails, and he was 10 seconds ahead of the next competitor. Chris held this lead over the entire race with Tim Gibson nipping ahead of Jason to take second. 4th place looked to have gone to newcomer Jenna Gibson who sailed brilliantly, but unfortunately she got the course a little wrong so was forced to retire giving her place to James Battye. Bob Ingram took 5th who was having to come to grips with new sails and new fins.
Race 2
The cobwebs had been blown away allowing for a very competitive start to race 2. The back-to-back flag was still flying so a 3rd race was going to follow which would test strength and stamina on an opening event. Chris and Jason swapped positions twice over the race with Jason taking his first win of the season. Tim was never far behind in 3rd with Bob taking 4th ahead of the consistent Battye.
Race 3
In spite of feeling the strain, all competitors stayed on the course for race 3. The wind was still constant but the sea state was becoming increasingly egg boxy. The race looked to belong to Jason but at the final upwind the fatigue hit his brain and he momentarily started heading deep downwind towards mark 4. Behind, Chris was bemused but took full advantage to take the lead and keep it to the end. Jason recovered in time to finish ahead of Tim. 4th place belonged to our second newcomer Kate Strange who was making her transition to Formula look easy. She finished ahead of James who also had a great race.
The end of the race was a little controversial as competitors were given a choice by the race officer of either a 4th back to back or no more racing for the day! Only Chris and Tim opted for a 4th (mainly due to the absence of Dave Coles) so that was it for the day and it was only 2 o'clock!
Day 2
The forecast for day 2 was a cross shore 16knot wind that was due to increase with gusts expected around 27. However, as soon as briefing was over the wind dropped with the only explanation being that we were in the eye of the storm and this proved true with the wind picking up an hour later. The plan again was for 2 back to back races - well that was the plan!
Race 4
The wind was blowing around 16 knots with slightly stronger gusts so most of the fleet were on the same size sail as the previous day. With Jason having a mishap on the downwind from the 1st windward, it looked like the race was there for Bond to take. However, he diverted all his attention to staving off Tim and overlayed the final upwind by some distance which allowed Jason to steal the show with a sneaky upwind leg inshore which was not seen by the leading two. Jenna proved that her performance in race 1 had been no fluke by taking 4th ahead of James who was making 5th place his own.
Sadly, whilst waiting for race 5 the visibility showed signs of disappearing so the fleet was sent ashore for an early lunch.
Race 5
For visibility reasons we were kept ashore allowing for only one more race. Jason and Chris were on equal points so it was winner takes all. The fleet took to the water with 12 knots being reported on the course. This very quickly changed and was closer to 20 knots with Jason managing to make a late decision to down sail size.
The upwind was very very tight with the overpowered Bond arriving just ahead of Jason at the 1st windward and he held this all the way down and around mark 4. In an attempt to close the gap on the second upwind, Jason chose to drop off the wind a little for more board speed but he was over finned resulting in him going airborne - to add insult to injury, his uphaul snapped ending his challenge and leaving him with a lengthy waterstart. Chris held the lead ahead of Tim who was also clinging on to an 11m. In 3rd came a jubilant James Battye who held off the hugely fatigued Jason. 5th place belonged to Owen Gibson who saved his best performance to last.
Results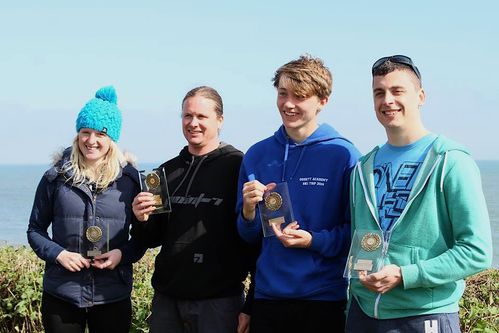 1st Open and 1st master Chris Bond (Point 7, Gaastra/Tabou, Z-Fins, Robin Hood Watersports)
2nd Open Jason Clarke (GA Sails, Patrik Diethelm, Z-Fins)
3rd Open Tim Gibson (North Sails, Gaastra/Tabou, Z-Fins)
1st National 11 and 1st Youth James Battye (Severne, Starboard, Juice Watersports)
1st Female Kate Stange
Next event is the infamous Rutland marathon on the weekend of May 23rd - let's make it a good turn out and a Formula win.