Pwhelli Formula Report
2 September 2016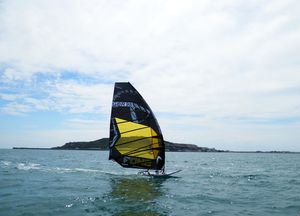 The formula fleet arrived in Pwllheli with one noticeable absentee. Series leader, Dave Coles, had elected to sit this one out due to his hectic schedule involving heading off to Greece for the World Youth and Masters. His commanding lead meant that this calculated move should not put his number one position at risk. His competitors were hoping for many races with the only chance anyone would have of making significant inroads, would be dominating the event and winning the vast majority of races if not all. The forecast was not great but seemed to be changing frequently.
Day 1 saw no racing in spite of the wind picking up briefly to 8 knots which had everyone hopeful. The forecast for Sunday looked promising for the afternoon but everyone was hoping it would come in early to fit in as many races as possible.
Sadly, on Sunday, there was no early wind as the forecast proved deadly accurate. The wind switched to offshore and started to build around 1pm and the fleet was called out in 9-11 knots with the forecast promising it to pick up to 13. Everyone headed out with their biggest kit knowing that there would be a number of back to back races with no time to come in and rest or change kit. Sadly, for Harrry Sharrock, his competition ended prematurely with a broken mast on his way to the start line. The wind was fickle and the first race was abandoned on the start line with insufficient wind leaving competitors wondering whether any racing would take place at all..... how wrong they were! The wind picked up well beyond the promised 13 knots with gusts frequently hitting 20.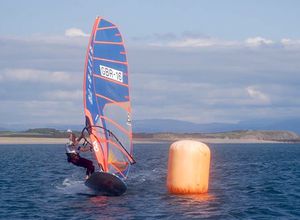 This meant that most of the fleet were feeling over powered with the exception of James Battye who was perfectly equipped on his 11m. The wind was gusty with many of these gusts coming from different directions. Add to this a considerable amount of seaweed and you had the unlikelihood of anyone coming away with a clean sweep of wins. However, Chris Bond managed to win the first 3 races wondering just how many more the race officer intended. Much to the surprise of most another 2 races were run and these were both won by a jubilant Battye who could have made the Olympics for the quality of his celebratory dives! Tim Gibson somehow managed not to win a race but he deserved at least one in the tricky conditions.
Chris and James finished on equal points with Chris taking it on count back and Tim coming 3rd. It looks like Mr Coles is safe.
Results
1st Chris Bond (Point 7, Gaastra/Tabou, Z-Fins, Robin Hood Watersports)
2nd & 1st Youth & 1st National James Battye (Severne, Starboard, Juice Watersports)
3rd Tim Gibson (North Sails, Patrik, Z-Fins, Boardwise)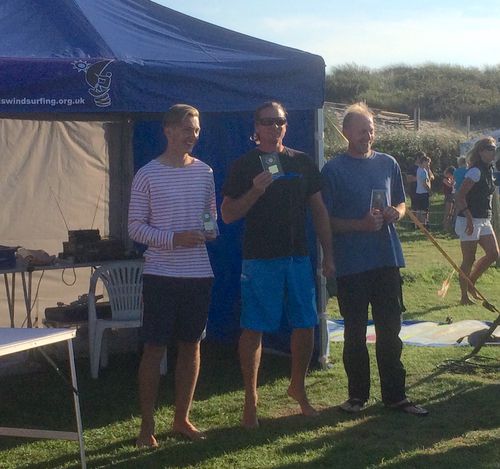 Our next event is the National Championships at Rutland on 10th/11th September - we hope to see you there.