Datchet Report
15 June 2017
UKWA Inland Regional Series 2017 - Event Two
Datchet SC, Sat/Sun 10/11 June
After our last two visits to Datchet in 2015 and 2016, which windwise were disappointing to put it mildly, this weekend provided enough wind, water - and sunshine - to last us several events!
As usual the LWA were piggybacking on Day One of the UKWA Regional Series Event Two consequently there were more sailors on the water on the Saturday. The results for these one-day sailors are not shown in the overall figures or taken into account in this report.
Apart from the risk of sunburn and being blown off the water, the edge of the reservoir was more slippery than ever and considerable care had to be taken to avoid damage to kit and self. When we arrived at the club the wind was a gentle seven or eight knots, but it soon got into its stride with gusts into the upper twenties!
On the Saturday we had the reservoir to ourselves and Race Officer Mike Dempsey opted for the far end which was very windy, but the distance made videoing difficult which is why the event video contains shots from the Sunday only. Saturday's racing was all on an S shaped course (often incorrectly called a "P") which has a short run after Mark 2 followed by two reaches to the finish line. This made a pleasant change from our usual Olympic Box and naturally caused chaos at the starboard gybe mark in the middle of the course to add extra interest.
The wind was due to build towards midday and it did exactly what it said on the tin. Consequently the whole weekend was a tremendous test of skill and stamina, with winds gusting up to 28 knots. On the Saturday we completed two races before lunch and three in the afternoon, which meant that everyone went to bed that night well and truly exercised.
Expectations were that the wind might moderate just a little on Sunday, but it was soon clear that no mercy would be forthcoming and again we were treated to gusts in the upper twenties. Because of club dinghy races our course was moved nearer to the clubhouse and changed to a windward- leeward. This was an improvement for both spectators and sailors as it made changing sails a much easier option.
Over the whole weekend the battle at the sharp end of the Raceboard fleet was between Mark Kay, Lewis Barnes, Matt Carey and Rob Kent. Mark was first across the line in every single race but one, which after discards gave him the perfect score of seven bullets. Lewis edged out Mark in Race Seven and this balanced a third place to give him 14 points overall.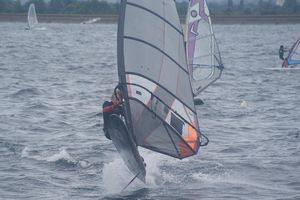 Matt Carey, sailing for the first time with his RS:X rig on a borrowed Equipe II raceboard, had a thoroughly enjoyable weekend, with a scorecard showing three 2nd places and four 3rds, making him third overall five points ahead of Rob Kent, who managed a 2nd and three 3rds.
Rob was followed in 5th place overall by First Youth Boy Toby Cave, who went faster as the event progressed, scoring a 4th place in the final race. Keeping it in the family, Annette Kent took 7th Overall and was First Lady, just one point ahead of daughter Rebecca who was First Youth Girl.
A little further down the fleet there was a battle between Florent Lambert and Peter Murray, both on Div II boards - a brave effort in view of the serious wind. Florent came off best, managing to beat Peter by a couple of places in every race to finish 13th overall. Peter however did not sail on the Sunday.
Jake Wolgram and Alysia Gibson, both on RS:Xs, experienced a great day's racing as can be seen on the video. Jake collected seven bullets whilst both of them completed all nine races in style.
In the Formulas Hugo Thomas and Steve Sugden slugged it out with Hugo taking the overall honours, winning every race.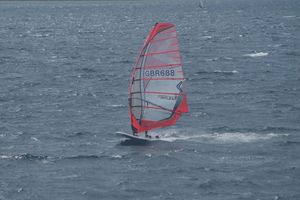 Fifteen Technos sailed on the main course, it was a fantastic sight watching these youngsters revel in the high winds. The fleet was dominated by Sam Williams (7.8) with six wins and one 2nd place. He was followed by James Faley with two race wins, just six points behind on the overall. Sam Saunders filled third place. First Girl was Charlotte Morrison in fourth overall. First in the 6.8 fleet was Rafferty Read whose brilliant 2nd place, two 3rds and a 5th against the 7.8s took him to the top of the 6.8 rankings, despite the fact that he did not sail in the last five races! Catrin Williams took 2nd in the 6.8 fleet and was also First Girl. Kai Wolgram took third despite injuring his foot in Race Four after which he was given average points.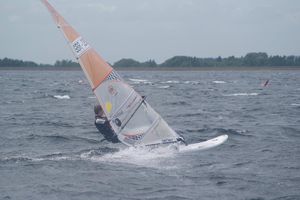 In the 5.8s Roan Clarke finished the weekend with a near-perfect score of 7 points ahead of Adam Raistrick, with Jack Pilkington and Paige Kay in 3rd and 4th.
Meanwhile the Juniors, Nieve Ball, Ruby Hamilton, Ella Clarke and Tyler Green braved the wind and waves in races in front of the clubhouse organised by Chloe Bennett.
Altogether an excellent weekend's sailing for which anyone who completed the event in such demanding conditions should be thoroughly congratulated. Thanks go to Race Officer Mike Dempsey and his crew, our shore staff, Ann and Brian Tilbury and Janet Pain of the LWA, and also to Datchet Sailing Club.