Weymouth Masterblaster
14 October 2017
Free Entry
There will be Free Entry to the masterblaster fleet again at the BSA Slalom event at Weymouth on the weekend of 28/29 October
Note to sailors who would like to take part.
Any gear can be used, this includes long boards of all kinds and windsups as the master blaster runs in all wind strengths.
Click here Slalom 7 for all of the event information and more details about how masterblaster works.
Portland harbour is one the top windsurfing destinations in the UK. Its ideal location, perfect conditions, camping & parking, showers and toilets make this a must do event.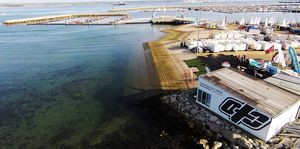 No need to be a UKWA member just turn up and register between 8am and 9.30 Saturday or Sunday morning. You can enter one or two days whichever suits.
Please note if you are not a UKWA member there will be a £10 charge to cover your third party insurance for the weekend.
Any questions contact
Bob Ingram
07889161780