National Coastwatch
20 February 2018
The National Coastwatch Institution (NCI) got in touch to let us know they have many lookout stations around the UK, and what to do if they are nearby.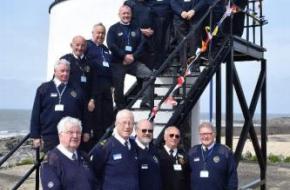 NCI is an entirely voluntary organisation keeping a visual watch along UK shores (where the RNLI rescues people, NCI sees the people who might need rescuing).
Phil Jones at National Coastwatch Institution Nells Point at Barry Island (S.Wales) wrote in to say:
We recently had an incident with a kitesurfer which involved them losing their rig and drifting into some serious current. Following our call to HMCG it resulted in a full blown rescue involving both Barry Dock All Weather LB plus CG Rescue helo.

Fortunately all ended well. Could you inform all your members that wherever there is an NCI Station around our shores we do keep an eye on all water users and enter details into a daily log. If they can see the NCI Station then it is almost certain that they will be noticed and monitored by NCI Watchkeepers. If they could alert us by waving an arm if they are in difficulty and we will alert the Rescue Services - an early call could and does save lives. A check on the NCI website at nci.org.uk will give all current NCI Stations around the UK.
Check out the NCI stations to see if they watch your local spot.