Slalom Dates 2021 Published
7 January 2021
The UKWA is pleased to announce its Slalom Racing Program for 2021.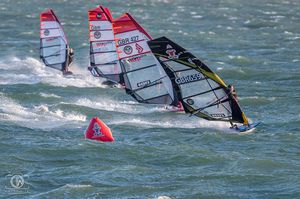 After such a difficult year, at last Slalom sailors have something to look forward to however please note that some of these events are still waiting for council approval. Whilst we would have preferred to publish a confirmed program it is understandable that councils have many calls on their limited resources at this difficult time. Therefore, before committing to anything please go to the events page, click on the individual Slalom event of your choice and check for the current status, To Be Confirmed or Confirmed. Slalom is back, come and join UKWA Family in 2021.
The UKWA thanks it's Slalom Sponsors – Further details to follow shortly.
UKWA National Slalom Championships 2021
Slalom 1 Lee on The Solent May 8/9 TBC
Slalom 2 Weymouth May 22/23 Confirmed
Slalom 3 Felixstowe June 12/13 TBC
Slalom 4 Christchurch July 10/11 TBC
Slalom 5 Eastbourne July/August 31/1 TBC
Slalom 6 Worthing September 18/19 TBC
Slalom 7 Poole October 23/24 TBC
Further event details will follow ASAP. Go to https://ukwindsurfing.com/events/ and click on the individual event as above.
Make sure you keep checking The UKWA website www.ukwindsurfing.com and follow us on Facebook and Instagram.
Be sure that your membership is up to date. Membership includes your Third-Party Insurance an absolute must in modern times, protecting you if the worst should happen. Remember your insurance expires the exact same day as your membership. We should all endeavour to stay safe in so many ways we may never have considered before.
Go to https://ukwindsurfing.com/membership/