Cup 2 WPNSA Report
24 April 2023
67 Sailors enjoyed the Second UKWA Cup event of 2023. WPNSA hosted the event, a location which works in all wind directions (some better than others) and offers a safe location, pretty flat water perfect for course racing and excellent facilities which have previously been enjoyed by Olympians.
The race team set out early Saturday morning to make sure racing began on time, with a forecast of shifty winds of differing strengths it was always going to be a challenging day, one they rose to, which produced a great days racing for all fleets.
Despite their enthusiasm the race committee failed to muster the wind gods and it was decided to announce an early lunch and hope for better conditions in the afternoon. Just sometimes plans pay off and shortly after lunch the wind began to build. First out the Techno & Raceboard fleets enjoyed 3 back to back races with light but increasing pressure. Next out the WingFoil and WindFoil fleets who had 1 race before the wind died and shifted which meant the course had to be relayed.
As the wind built again from its new direction the committee ran 3 more races for WindFoils, 4 for WingFoils and 2 for Techno & Raceboard with racing up until 6.30pm, a long day for the team, but well worth the effort.
Sunday saw some tired sailors attending the 9.15 briefing with flags being raised promptly in time for a 10am start for Techno & Raceboard with two pre lunch races in a light breeze before a further two in much stronger breeze peeking at 25 knots. Once released the WindFoil fleet had 5 rounds of racing, enjoying the much better conditions as did the WingFoil fleet.
Prize giving was kindly attended by a legend of UK windsurfing the one and only Nick Dempsey who handed out the trophies with his usual smile and good humour.
Overall this event was a great advert for course racing and can only be seen as a great advert for the 2023 series as it moves on to a three day event at Lee on The Solent 27/28/29 May.
Techno Junior Fleet
The 5m and 5.8m sailors saw 9 races over the weekend, a great effort from our junior sailors, long days and challenging conditions. Fantastic results from Caedon Faulkner-Leask winning all but one of the races.
5m boy

Dawson Rodgers

5m boy

Harry Bew
5m girl Ruby Webb
5.8m boy

Caedon Faulkner-Leask

5.8m boy

Noah Goulden

5.8m boy

Louis Goodwin-Dawson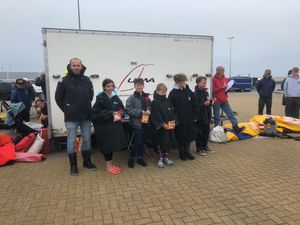 Techno Main Fleet
The fleet saw 18 entries of 6.8 & 7.8 Sailors, 9 races saw Milo Shaw come out on top on his 6.8 with 5 wins and 2/4/5/6 places
6.8 boy Milo Shaw
6.8 boy George Ebdon
6.8 boy Oliver Ebdon
6.8 girl Sophie Clark
6.8 girl

Anna Ross-bell
7.8 boy

Max Harris

7.8 boy

Joseph Jones
7.8 girl

Abigail Smith

7.8 girl

Evelyn Clark

7.8 girl

Rebecca Pilkington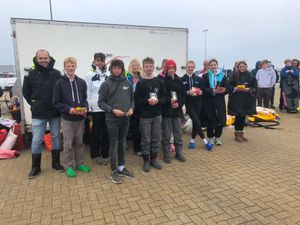 iQFOiL Junior
The iQFOiL fleet is already growing with just three entries at Rutland, the fleet expanded to 7 with both male and female entries
iQFOiL Junior boy

Galahad Bye

iQFOiL Junior boy

Finnley Knight

iQFOiL Junior boy

Michael Winstanley
iQFOiL Junior girl

Rosie Sier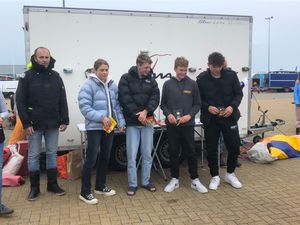 IQFOiL Main Fleet
The fleet had 18 entries including Ethan Moody and Catrin Williams making an appearance on the Senior kit. Ethan came out overall fleet winner winning all but one of the races.
iQFOil senior man

Ethan Moody
iQFOil senior woman

Catrin Williams
iQFOiL youth boy William Ziegler
iQFOiL youth boy Alexander Meadway
iQFOiL youth boy

Eddie Hall
iQFOiL youth girl Darcey Shaw
iQFOiL youth girl Sophie Blaydes
iQFOiL youth girl

Anais McCarthy
Formula Foil

Tim Gibson

Formula Foil

Tony Handley



Formula Foil

Ben Clothier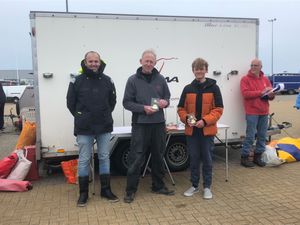 Raceboard
With a small entry of just 11 boards it was Louis Morris who dominated the fleet winning every race. However behind Louis and Rob Kent who came second, racing had been very competative with Guy Gibson being a notable fourth and first youth.
male Louis Morris
male Robert Kent
male Mark Harris
Lady Annette Kent
Lady Emily Kent
Youth boy Guy Gibson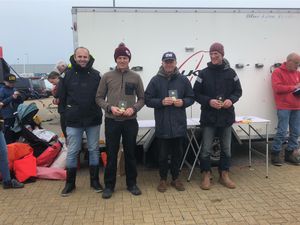 WingFoil Fleet
The WingFoil fleet had 11 good races over the weekend with Rafferty Read only slipping up in the first race winning the next 10. 7 entries proves there is genuine interest and everything points to the fleet growing in the future
Junior Finlay Chandler
Junior

Sullie Yelland

Junior

Leon Schiel
Senior Rafferty Read
Senior

James Bulson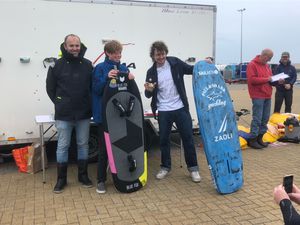 Full results are here

Series results are here

Your Volunteer Team
Safety Boat- James Pilkington, Simon Moore, Alastair Morgans, Mark Ebdon, Edd Pilkington, Euryn Williams
Race Officer- Tessa Ingram
Committee boat Crew- Maggie Coles, Sara Lord, Alayne Harris, Jeremy Coulton, Nina Innocenti.
Admin- Sue Ingram, Brian Tilbury, Ann Tilbury, Yvonne Bryan
Scorer- John Eskdale
Buoymaster- Brian Tilbury
Your Coaches
Head Coach Techno & iQFOiL - Ali Masters
Event Sponsors