Cup 3 Lee on The Solent Report
5 June 2023
If there is one think windsurfers know about local conditions it is that offshore winds are always going to be challenging, yes in this direction the sea will normally be pretty flat, so launching and recovery will be pretty easy but on the downside the wind will be pretty unstable and gusty making kit choices difficult for those fleets that have this as an option. Starts will be a long way offshore making these choices even more important with insufficient time for changing kit in between races.
If these conditions make decision making difficult for competitors, then the challenges are even more difficult for the race team. Laying a course can be difficult and often results in compromises being made. Race officers often choose an upwind-downwind course laying the windward mark in the middle of any, or many shifts in an attempt to make racing fair for all whilst allowing the team to make any changes quickly whilst maximising race time.
This was the first three-day event the UKWA has held for some years, as the request of the pathway classes. Of course, this does put an extra strain on volunteers and increases the entry fee but on the plus side offers extra time on the water and prepares competitors for longer International Events.
The race team started early on Saturday morning to launch the ribs before the tide subsided, so it was always going to be a long day. The forecast was optimistic that racing would be possible for most of the day. The sun shone all day nonstop and perhaps this contributed to the dissapointing outcome, with any breeze shifting far to much for racing to commence. Of course, as racing was called off for the day the breeze built a little and many went out free sailing for 30-40 minutes, but many reported despite having fun conditions would not have been suitable for Championship racing.
Sunday morning saw more of the same however to everyone's relief the wind steadied, and the race team set a course. At around 1pm again in glorious sunshine the fleets were released, the wind held, in fact built a little as the day went on. Not wanting to risk the wind disappearing the race team kept the sailors on the water for four back to back races and five for the foiling fleets.
Monday was scheduled to be a shorted day with the last possible start at 12 noon so everyone hoped there would be enough wind to start on time. There was plenty, lots of rigging could be seen on shore with decision making difficult, winds again offshore and up to 20 knots challenging conditions for all, again we benefited from clear skies and sunshine it a little cooler than the previous two days. What a fantastic morning of racing, three for raceboard and Techno, five for Foils and six for WingFoils.
Thanks to Lee on The Solent sailing club for making us so welcome throughout the weekend, great facilities and 40+ people enjoyed dinner on Saturday night.
The series moves on to Steamer Point Christchurch a location which will always be associated as the home town of Penny & Emma Wilson both who have represented the UK at the Olympics. Roll on 17/18 June Cup 4.
Techno Junior Fleet
The 5m and 5.8m sailors saw 7 races over the weekend, a great effort from our junior sailors, long days and challenging conditions. With three different winners and four different sailors appearing in the top 3 it was obviously a close thing with great racing all weekend. 7 entries.
5m boy Dawson Rodgers
5m girl Ruby Webb
5.8m boy

Jasper Malik

5.8m boy

Alexander Pytlewski

5.8m boy Louis Goodwin-Dawson
5.8m girl

Caitlin Bramah

5.8m girl

Phoebe Gay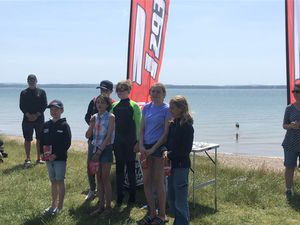 Techno Main Fleet
The fleet saw 22 entries of 6.8 & 7.8 Sailors 4 up on Weymouth 7 races saw Milo Shaw come out on top again on his 6.8 with 5 wins and the Ebdon brothers coming in second and third overall.
6.8 boy Milo Shaw
6.8 boy George Ebdon
6.8 boy Oliver Ebdon
6.8 girl Anna Ross-bell
6.8 girl

Isabel Bramah

6.8 girl

Alice Jarrett
7.8 boy

Clement Siu

7.8 boy

Aarian Rexha

7.8 boy

Joshua Lord
7.8 girl

Rebecca Pilkington

7.8 girl

Amelia Gay
Techno+ boy

Luke Hayes
Techno+ girl

Olivia Ross-bell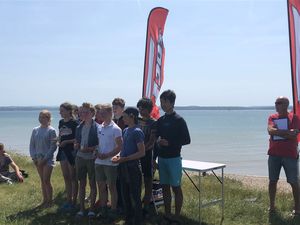 iQFOiL Junior
The iQFOiL junior fleet grew by another with 8 entries this weekend. With 4 different winners and 5 different sailors appearing in the top 3 racing was both challenging and competitive. Well done to all that completed the course.
iQFOiL Junior boy Galahad Bye
iQFOiL Junior boy Finnley Knight
iQFOiL Junior boy

Charlie Baker
iQFOiL Junior girl

Abigail Smith
IQFOiL Main Fleet
The fleet had 19 entries, 10 races with William Ziegler taking overall victory with 8 wins, Dave Coles put in a good performance coming third overall and first Formula Foil.
iQFOiL youth boy William Ziegler
iQFOiL youth boy Eddie Hall
iQFOiL youth boy

Harvey Jenkins
iQFOiL youth girl Darcey Shaw
iQFOiL youth girl Sophie Blaydes
Formula Foil Dave Coles
Formula Foil Tim Gibson
Formula Foil Tony Handley

Raceboard
With a much better entry of 16 the raceboard fleet was very competitive. It was good to see two youth entries, two ladies and a newcomer which is promising for the future. Louis Morris dominated again but Tom Naylor did at least keep him honest taking win in race 3
male Louis Morris
male

Tom Naylor

male Robert Kent
Lady Annette Kent
Lady Emily Kent
Youth boy Guy Gibson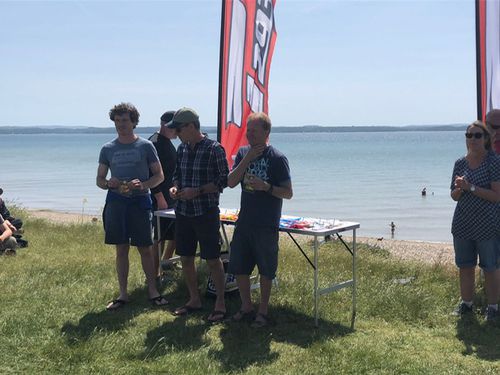 WingFoil Fleet
The WingFoil fleet had the most races 11 over the weekend with racing being dominated by Finlay Chandler who took the overall win.
Junior Finlay Chandler
Junior Sullie Yelland
Junior

Finn O'Gorman
Senior

Denis Gordo

Senior

Andrew Colleneite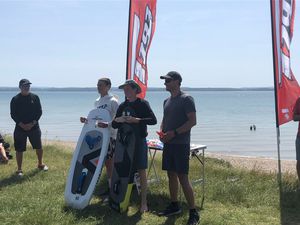 Full results are here

Series results are here

Your Volunteer Team
Safety Boat- James Pilkington, Simon Moore, Alastair Morgans, Mark Ebdon, Edd Pilkington, James Palin
Race Officer- Tessa Ingram
Committee boat Crew- Maggie Coles, Sara Lord, Alayne Harris, Jeremy Coulton, Nina Innocenti, Julia Jarrett
Admin- Sue Ingram, Brian Tilbury, Ann Tilbury, Yvonne Bryan
Scorer- John Eskdale
Buoymaster- Brian Tilbury
Your Coaches
Head Coach & iQFOiL - Ali Masters
Techno Coach - James Faley
Event Sponsors