Slalom 2 Littlehampton Report
15 May 2023
Round two of The National Slalom Tour 2023 was hosted by The Beach Cafe, Littlehampton. Our Hosts James, Will and their team made us very welcome indeed. The cafe was super busy all weekend with live music on Saturday night enjoyed by many of the competitors. A demo had also been arranged with plenty of kit to be viewed and some spectacular tow in freestyle to be seen after racing was completed on Saturday evening.
The forecast was not good for either day right up until Friday morning, however the outlook did improve for Saturday with Sunday still predicting a right off. It was always going to be tricky with any wind predicted coming from the North/North East so offshore all weekend.
After a gusty night Saturday morning saw the wind settle down and the race team launched the boats in shallow water from the lifeboat slipway in the town. The team worked hard to get everything ready, the course was laid and the race officer designated foil racing for the International fleet. The Internatiional Fleet and The WingFoil fleet launched but it soon became clear there was enough wind for The National Fleet to join them. Racing also began for The MasterBlaster fleet, out to the large orange buoy and back. Getting off the beach was challenging in shallow water but later in the day getting back in the offshore wind would be even more tricky.
The International and WingFoil fleets saw four races and The National Fleet Two in 12-14 knots before sailors went ashore for lunch as the wind subsided. A short break encouraged the wind to return and before long all fleets returned to the race course with The International and WingFoil fleets having a further 5 races and the National Fleet a further 3 in slightly stronger winds 12-16 knots. Thought was given to changing from Foil to Fin for The International Fleet, but on balance remaining on Foil enabled maximum water time for the fleet.
It was clear everyone was surprized to have had such a great days racing and happy smiling faces could be seen accompanied by some rather tired bodies.
A Friendly but Serious Warning
Two events in to the 2023 Slalom tour and numbers have not been great. Changes have been made at the sailors request to make racing more accessible. Events are expensive to put on and require a minimum of 11 volunteers to give up their weekend for the pleasure of others. To make these events both viable and credible to be called National Events for both The UKWA and our hosts we need to see a minimum entry of 50 competitors. We all understand forecasts are more accurate today and travel is expensive but who would have thought 9 rounds of racing would have been completed in just one day. We have to be real - Support it or Lose it.
The crew enjoying some downtime, music and dinner with Simon Pettifer & Michael George.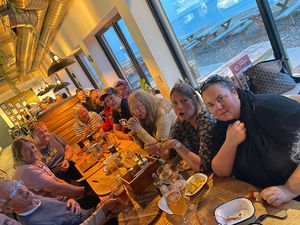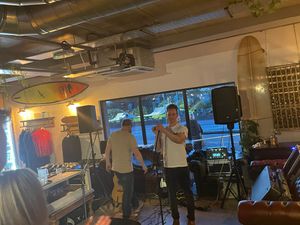 MasterBlaster Fleet
With numbers a bit light for this weekends Master Blaster fleet racing saw Mr MasterBlaster himself, race officer Brian and Charles Milner join William Heath for 8 races on Saturday in challenging conditions. William put in a strong performance with 5 wins, two 2nd's and a 3rd place. Thanks to both for stepping up and supporting the fleet
William Heath

Brian Tilbury

Charles Milner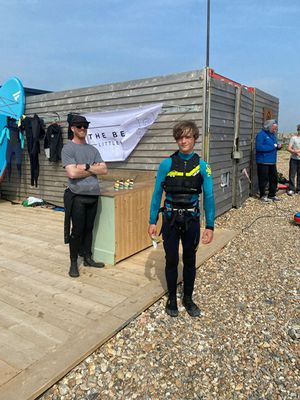 WingFoil Fleet
With nine races on Saturday competition was tough in the WingFoil Fleet. The current trend continued with Wings being the biggest single fleet with 11 sailors. With three different winners it was Hugo who came out on top winning 5 races despite a disqualification and a scoring penalty.
Overall Hugo Dobrijevic
Overall Finlay Chandler
Overall

Joey Adams
Junior Hugo Dobrijevic
Senior Joey Adams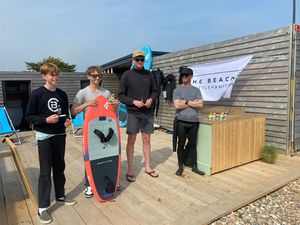 National Fleet
There was collective surprise amongst the National Fleet when they got the call to join the Foils and Wings on Saturday morning. It did however prove to be a great call by the race team and shortly after leaving the beach they began their first race of the season. A further race followed before a short lunch break. The afternoon session saw some pretty strong gusty winds, with big sails maximum effort and concentration was called for. 10 sailors took part 9 on slalom kit and 1 in the new Freeride class.
Overall

Scott Norman

Overall

Dave Strudwick

Overall

Alistair Campbell
Youth Girl

Lilia Yelland
Youth Boy

Oliver Cooper
FreeRide

Josef White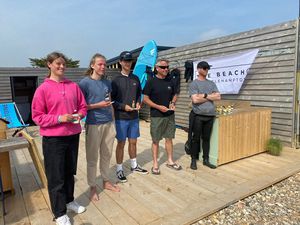 International Fleet
This season it is up to the Race Officer to select the equipment which will be raced by The International Fleet. The decision was marginal but a great call to go with and stay with Foiling throughout the day. 10 sailors took part in the nine rounds of racing. James Faley winning 7 and previous Champion James Dinsmore 2.
Overall

James Faley

Overall

Michael George

Overall

Simon Pettifer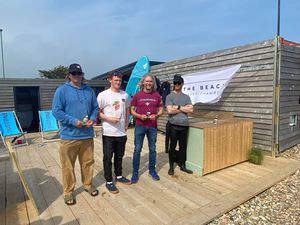 Full results are here
Series results are here
Photos by Andy Stallman here
Hand made trophies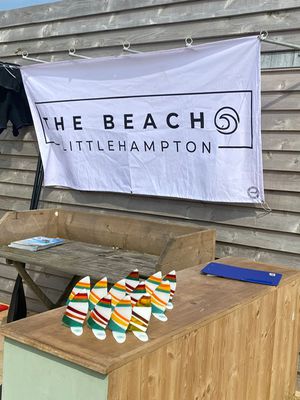 Your Volunteer Team
Safety Boat- Alastair Morgans, Rob Strange, Andy Stallman & Stuart Keep
Race Officer- Tessa Ingram
Committee boat Crew- James Palin
Masterblaster - Brian Tilbury
Admin- Sue Ingram, Brian Tilbury, Ann Tilbury
Scorer- Anne Walsh / Michael George
Buoymaster- Brian Tilbury
Hard work for the crew recovering safety boats.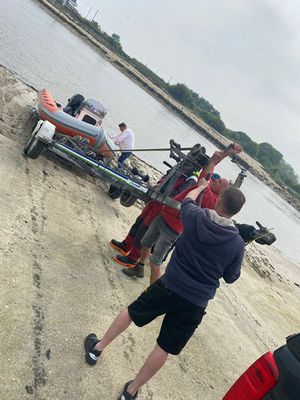 Event Sponsors
The Beach Company Littlehampton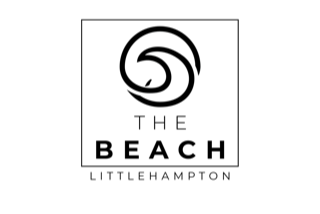 Cafe and watersports venue for further details click here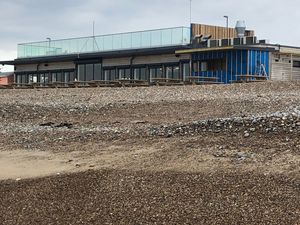 WingFoil Sponsor


Tour Sponsors
Tabou / GA Sails -
OTC The Official Test Centre
K66 / Fanatic / Duotone / ION
Simmer O'shea / Puravida
4Boards
JP / Neil Pryde
QuiverWindsurfing / Goya / Quatro / Kachina Clothing
Starboard / Severne
Boardwise
The Beach Company
Windsurf Magazine