Slalom 1 - OTC / Gaastra -
Weymouth Academy
Sat 11th

-

Sun 12th

April
About Slalom
UKWA Slalom represents windsurfing in its purest form. No matter what your ability, the kit you use or the discipline you specialise in, everyone can relate to the exhilaration of blasting back and forth, trying to squeeze that extra bit of juice out of your kit whilst racing your mates.
At an event you choose a fleet to join depending on your ability, and blast around a simple course, trying to get to the finish the quickest!
At the events, there are several fleets:
Master Blaster Fleet: Any kit, launch from the beach, get around one bouy any way you can, and get back! First back to the flag wins.
Amatuer Fleet: The stepping-stone to the Pros, you need to be able to gybe around a 5 bouy downwind course.
Pro Fleet: People who have plenty of competitive experience, and racing slalom within the International Rules.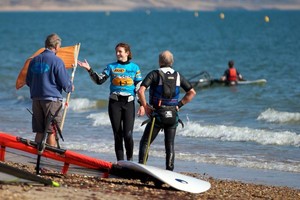 If you are not a member of the UKWA you can still enter in the Master Blaster fleet, although we do have to charge an extra £10 to cover event insurance.
For the Amateur or Pro fleet you need to be a UKWA member to enter an event, then online entry is easy (see membership for more).
Meet The UKWA Race Team
Without our dedicated volunteers events such as this would not happen. Meet the UKWA Race Team. Would you like to join us, there are many ways you can help both on an off the water. You might volunteer for the whole weekend, a day or maybe half a day. What you will be is very welcome and guarantee the future of our sport. No volunteers-no events.
About Event 1
Opening the 2015 British Slalom Association (BSA) season, GA Sails are pleased to join the team at the Official Test Centre (OTC) and welcome everyone to Portland. Based at the Weymouth and Portland National Sailing Academy (WPNSA), this venue is tailor made to host events (none more important than the BSA events of course!), with fantastic facilities and all the amenities that are required to combat the conditions at this time of year. Many of you will know how to get to the OTC venue, but if not, visit their website for directions here.
Should the wind not play ball, there will be a host of other activities put on, with the OTC possessing a fleet of Vandal iSUPs for a spot of team relay racing … or maybe a GPS speed challenge to whet the appetite for the NWF Speed Challenge which will be on the same site a week later.
The event also coincides with a local event taking place just over the fence at the Dean and Reddyhoff Portland Marina. Creatively dubbed 'Fish and Ships' it is only the second year the event has taken place, but if last year is anything to go by, there will be a whole host of pop-up stands and eateries displaying the best seafood and farmed that Dorset has to offer. Certainly not one to miss … there is even rumour of a live band in the evening. For more information, visit the Dean and Reddyhoff website.
On Saturday evening, the WPNSA Spinnakers lounge will be open until late, enabling everyone to catch up from the BSA winter break and have a few quiet ones in preparation for the Sunday activities. For more information about the event or any advice regarding accommodation or timings, just email the OTC on info@otc-windsurf.com or call 07817 717904.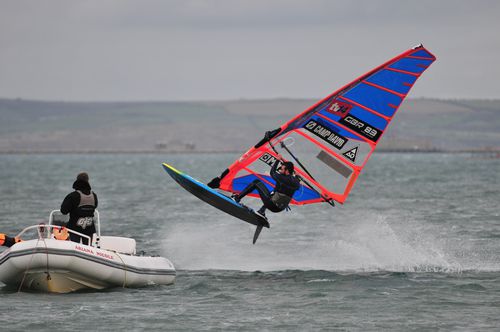 Venue

Weymouth & Portland Sailing Academy.
WPNSA, Osprey Quay, Portland, Dorset, DT5 1SA Tel 01305 866000
About The Academy
WPNSA officially opened on 1st April 2000, with residence taken up in the converted ex-naval offices, whilst the plans for the new Academy were taking shape.
The clubhouse was opened officially in June 2005 and includes 30 pontoons, new slipways and much expanded room for boat storage and car parking.
The academy has excellent shower, toilet and changing facilities. In addition there is a cafe style restaurant with free wi-fi including use of two computers. A viewing deck overlooks the harbour.
There is no grass for rigging and although large carpet mats have been installed these soon get full so a rigging mat is always a good idea.
The slipways at Weymouth are generally extreamly slippy, so extra care should always be taken especially at low water.
Academy Website: www.wpnsa.org.uk
Directions
By Car From DorchesterTake A354 to WeymouthFrom Poole and BournemouthTake A352, which then becomes A353 to Weymouth From BridportTake B3157 to Weymouth
When you arrive at WeymouthTake the A354 to Portland. This will bring you to the causeway linking Weymouth and Portland. Halfway along the causeway you will reach a mini-roundabout. Turn left, we are signposted 'Sailing Academy'.
By BusWeymouth and Portland National Sailing Academy has it's own bus stop.
Accommodation
Turnstones B&B is walking distance away, other accommodation can be found at Visit Weymouth. Other options are Sky View apartments, Contemporary Cottages, Spinnaker House, Portland Roads, The Venue and Dream Cottages. Portlandholidaylet.co.uk has a listing of B&Bs and other accomodation.
Series Scoring 2015
Following the sailors meeting at Tenby towards the end of 2014 it was decided by popular request to change the series scoring for 2015. Of course as usual you should study the Sailing Instructions and The Notice Of Race, however briefly this is how it works.
This applies only to events when there is no wind for championship racing for any given fleet. If you choose not to attend and there is Championship racing the normal accumulated points apply.
In the event of insufficient wind for championship racing, therefore no racing has taken place for a particular fleet; competitors will be awarded series points as follows.
(a) If the event does not qualify as a valid series event then each absent competitor will incur 1 "non-attendance" point.
(b) If the event does not qualify as a valid series event then each attending competitor will incur 0 "non-attendance" point.
(b) Non-attendance points cannot be discarded and will be added to the series score to give an overall score.
So now study the attached hypothetical set of results as an example. You will see event 1 had no Championship Racing therefore the above applies.
In conclusion
The previous system was very unforgiving to sailors who could not make all events. It was a bit all or nothing. The new system will potentially allow a sailor to miss an event or two and yet still put in a very decent overall series score. Hopefully this will mean a greater number of sailors will be motivated to turn up to events and will still be fighting it out near the end of the season.
The changes will mean that discards will now be used to discard a poor result(s) at a counting event(s) as opposed to discard (high value) attendance points. One benefit might be to mitigate the impact an event decided on the basis of a single final in 'iffy' conditions which in seasons past could potentially have had a huge effect on the overall season scores.
There will continue to be a reward for attendance at events that turn out to be windless. The penalty for not attending will be smaller numerically but non-discardable which was not the case previously. Any zero point scores for attendance will be also included in count-back calculations in case of a draw on points at the end of the season. In that situation they will be the initial score looked at and so become particularly valuable.
Terms of attendance
The UKWA reserves the right to exclude or expel any member / non member / family / group or individual from its event site should it be considered that they may by their actions or the perception of such bring the UKWA, its hosts other parties or individuals into disrepute. The UKWA Committee, in part or in it's entirety, shall be the sole judge of such action, and their decision is deemed final.
Persons expelled shall leave the event site within 30 minutes of any verbal notice and shall not return. Exclusion may be deemed temporary (this event) or permanent (all events). Permanent expulsion shall be the decision of the elected committee and shall be confirmed in writing within 21 days of any temporary expulsion, however any excluded individual may not attend any UKWA events during this period of consideration.