Slalom 1 Weymouth Report
18 April 2023
The UKWA Slalom tour began last weekend 15/16 April and despite the new format one thing did not change from 2022, the weather forecast was grim and unfortunately failed to surprize in any way with little or no wind all weekend.
The Masterblaster and WingFoil fleets had remained unchanged for 2023 however the Pro Fleet has now become The International Fleet and The Amateur Fleet will now be known as The National Fleet. Lots more information on how this works and the rules and regulations can be seen here.
Having seen the forecast the race team were keen to started as soon as possible as everything indicated any racing was likely happen within a one hour window between 11am and noon. This turned out to be the case, with the wingFoil fleet getting two races, the race officer chose Foilig as the designated discipline for The International Fleet but despite 5 starts, no races were completed.
MasterBlaster Fleet
Mr MasterBlaster race officer Brian did not let the light winds put off the sailors who enjoyed both plenty of racing with 17 rounds held over the two days and lots of tips on how to get the best out of themselves and their kit.
Dylan Chick

Charlie Howard

Harry Wilkinson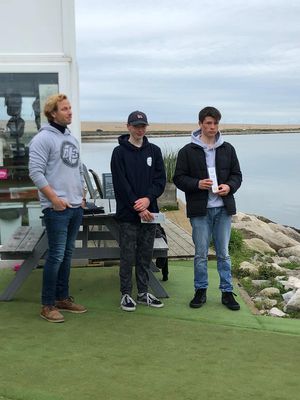 WingFoil Fleet
With just two races completed for The WingFoil Fleet they proved their ability to race in some pretty light wind, however even they had to admit after just one hours racing the rest of the weekend would be spent on the beach.
Overall Rafferty Read

Overall Hugo Dobrijevic

Overall Finlay Chandler
Junior

Hugo Dobrijevic
Youth

Rafferty Read
Senior

Rod Dickinson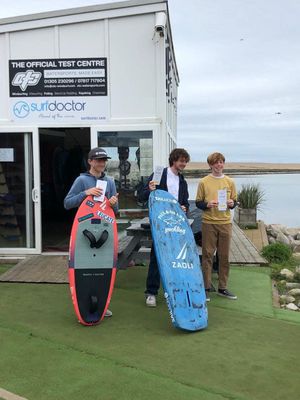 Full results are here
Series results are here
Your Volunteer Team
Safety Boat- Alastair Morgans, Rob Strange, Andy Stallman & Stuart Keep
Race Officer- Tessa Ingram
Committee boat Crew- Rod Murray
Admin- Sue Ingram, Brian Tilbury, Ann Tilbury
Scorer- Anne Walsh / Michael George
Buoymaster- Brian Tilbury
Event Sponsors




Tour Sponsors
Tabou / GA Sails -
OTC The Official Test Centre
K66 / Fanatic / Duotone / ION
Simmer O'shea / Puravida
4Boards
JP / Neil Pryde
QuiverWindsurfing / Goya / Quatro / Kachina Clothing
Starboard / Severne
Boardwise
The Beach Company
Windsurf Magazine