Christchurch Formula Report.
18 August 2005
"Christchurch with its green fields of grass,
and showers of hot and cold water,
don't make a noise or they'll kick you're a**
and Sibley (jnr)will run off with your daughter"
The green grass of Christchurch is always a welcome venue for the travel weary UKWA road show and this year's event was to prove just as eagerly anticipated. The UKWA Southern cup was to act as a prelude event to the Youth and Master World Championships that were to follow the week after, but it was clear to all in the know that the Southern cup was clearly the place to be and that the warm up act of youth training and the encore act of the world's were clearly side shows to the main event - Jay's sailors briefing on Saturday (now there's fireworks you just can't buy)
On a personal note it must be said that having travelled to Christchurch on many occasions with the UKWA but also numerous times with work, I have yet to get there the same way twice, in fact I've never left Christchurch the same way I arrived either come to think of it, its like a maze that place and its only the shining orange beacon of Sainsburys that heralds the imminent arrival of the pastures green and the weekends final destination. On arrival, like a scene from the lord of the rings, the shiny-headed hobbit Proffit pounced from behind a bush and opened the gateway to the field of dreams! And so the weekend begun:

My last report and literary masterpiece for the UKWA was the Felixstowe report, and it came in for some fair criticism from certain members of our tribe who felt they were wrongly victimised by the sharp tongued wit of yours truly (yes, I do say so myself) it is with this mind that I wish to take this opportunity to apologise to anyone who suffered at my carefree poison pen, however, Keith if you will reverse your brand new, shiny VW Transporter from Bilbo's (for you sponsor that Keith!) into a brick wall you just can't expect that to be ignored!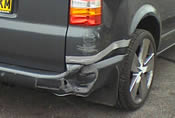 However, lets get a positive out if this Keith- any ladies out there who wish to teach the finer points of reverse parking and hand brake use can apply to the legend himself directly, one on one lessons preferred though I've heard he's willing to experiment! (the things I do for you keith)
Saturday began quiet and still with not a lot of wind on show, however Christchurch has a reputation for starting sleepy and picking up later with the onset of various sea breezes so hope was abundant (though being last choice for this report and the duration that has passed, forgive my aging and fading memory for any discrepancies). Eventually as hoped, the wind picked up and a premature end was called to highly productive sailors meeting. Big kit was order for the afternoon as the winds although fairly consistent where light and getting round the course and off the start line required all the power you could harness.

Starting was to prove crucial, if you got it wrong and ended up below the fleet or in the wake of others it was nigh on impossible to get going and a long wait for clean wind and water was to follow for such an unlucky sailor (how do I know this? Best you don't ask!). Racing despite various potholes that needed to be avoided was most enjoyable, with the sun shining, crowds watching and survival sailing the last thing on your mind. Keith was flying and despite a little pressure from some of our cosmopolitan colleagues on the start line dominated the days sailing. Another popular observation was the speed and success of the youth and junior sailors, who spent some time previous to the event training on location-training which had clearly paid off with all the youngsters getting important starts and holding off, if not, improving their positions throughout the race's-fantastic to see if not a little de moralising!! Other news in brief- Hugh kept falling off, Deverell kept sailing off on sight seeing tours and still did well, Lucy was powering all competition aside on a smaller sail than most, Xav was unable to curse as at least a quarter of the start line could now be easily offended, and Greg was getting a beating off his bird which is never an easy pill to swallow for any self respecting male!

At the end of the days racing it was smiley faces all through the fleet, and even though I was sailing like a Muppet and having a mare I was enjoying doing it, and if that's the case you know we're getting something right here at the UKWA! The evenings entertainment was slightly more subdued than it has been in the past (the absence of Bromley being no co incidence I dare say) with quiet sociable barbeques being the order of the evening, with a little endless summer 2 footage being enjoyed in the Sibley junior canvas palace monstrosity (a big marquee construction erected without planning permission for Paul to park his van and invite selected Bedouin guests and hareem members). The sun set on a majestic and peaceful scene with everybody looking forward to Sunday and yet more great racing.

Sunday, well, Sunday had clearly not read the script, and despite what sounded like virgin sacrifices to the weather gods in the Dibley canvas palace next door the weather was shocking. So shocking that the harem had actually been blown away over night! It was raining, grey and very foggy. The committee boat decided it'd had enough and headed for the shelter of harbour, and so also did a number of competitors who decided after a night of no sleep and kit being blown around that enough was enough and that it was time to go home and dry out-the first of the escapee's being Neil "I aint doing formula no more" Ellison. This was to prove to be a tactical error as, although no one could of ever predicted it, the clouds blew away, the sun came out and racing was hastily arranged from the new committee boat (a rib, with no toilet and in clear view of the beach and on looking spectators-unlucky!! Got no kettle either apparently). The day was to be a great contrast to the day before with small kit being required and a whole lot of nerve, guts, stupidity, and strength needed to negotiate the simple box course that was laid. The younger sailors had clearly not trained for these conditions and found the going slightly trickier it wasn't starting that was the problem today it was staying on the water. Keith was once again the man with the target on his back, just not quite a big enough target as nobody could get close, Xav put the demons of crashing into a dinghy at the last Christchurch event behind him, along with most of the field also! I think it was 4 races that were run that afternoon and everyone was a real hell ride and survival mission, truly amazing windsurfing that made the super x next door look like a tea party, and which at the top mark the super x sailors learnt the windward board rule on a number of occasions! The end of each race was a celebration of excitement for all that crossed the finishing line alive. On a personal note, I couldn't speak or catch my breath for ages, as I was laughing/smiling so much. An absentee from the days proceedings though was poor Leo who could be found at the top the beach in dark glasses having spent the night celebrating his birthday, it was either the effects of alcohol and tiredness that were taking there toll or was it that he was missing his beloved RSX back in Weymouth all tucked up without him?
And so to the day's news in brief! Well, let me see, Johnny foreigner was finding it slightly more testing, Lucy continued to fly on her smaller sails, Keith broke a mast before even launching, Harry trashed a sail much to the delight of the "Bank of Solven". Sibley junior never recovered from the loss of his canvas palace and never showed up, Nick Dempsey on free style / wave kit tried racing the reach leg at the top of the course against Xav and almost caught him! And Andy Mexhome finally totalled his board…..oh yeah, and then convinced me to lend him mine for the worlds and the week ahead, hmmmm. I sailed better, with my newly tuned "lower centre of gravity" proving to be a valuable asset in the stronger winds and scored top ten and thereabout result's for the day, which was a pleasant finish for a pleasant weekend.
A fun slalom race was arranged for the local sailing club and location hosts. This was very well attended and they guys raced well round the basic loop course, well enough to set some UKWA members egos a twitching!
Prize giving was arranged and all winners gratefully took possession of trophies and prizes to the sound of frenzied applause from the gathered crowds. The results can be seen elsewhere on the website and have been posted for quite some time now. Thanks to all that contributed and helped to run a great weekend from sponsors (see website links) through to race crews and admin/result calculators! The next official event is Bridlington the first weekend of September, till then if you need a fix of travel, van life and windsurfing then come to the welsh hi ho (dale weekend) on august bank holiday where all are invited for a weekend of relaxation and entertainment!
Chris "SOLA" Lewis
GBR366-sponsored with gratitude to SOLA wetsuits. AMEX masts and booms, MERREL footwear, Boardwise.