Slalom 3 WPNSA Report
27 June 2023
Round Three of The National Slalom Tour 2023 held at The National Sailing Acadamy was hosted by Tris and the team at The OTC.
Saturday was a very laid back day as little or no wind was expected. A strange day which saw Sea Fog roll in on several occasions only to be burned off and replaced by glorious sunshine. The forecast was not wrong with the only racing to be held was for The Masterblaster fleet. Many spent the day prepairing kit and looking forward to a windy day on Sunday. Depending on which forcast you beleived wind was forecast late afternoon or possibly all day. In the end Sunday morning saw a lightish breeze which steadinly built sufficient for The International Fleet to foil and the wings to join them in the course area located behind the harbour wall. It was clear by mid afternoon that the wind was building so the course was relocated closer to the shore and the race officer chose Fin for the International fleet and both the National Fleet and The wingfoils enjoyed some spectacular racing in gusts up to 30 knots
It was clear everyone had a great day and all the hanging around on Saturday was soon forgotton.
Numbers better but still down on expectations.
Event three saw 42 entries a slight improvement but still short of the minimum number needed to make these events both viable and credible to be called National Events for both The UKWA and our hosts. We need to see a minimum entry of 50 competitors. Please share your experience and encourage your friends to come along and enjoy a great weekend of fun and racing. Support it or Lose it.
The crew enjoying some refreshment at The Cove with Scott Harrison and Lee Marrs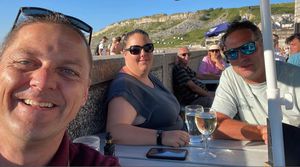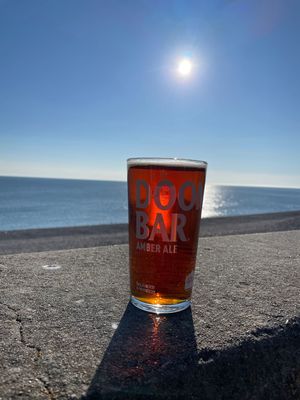 MaterBlaster Fleet
Brian again joined the Masterblaster Fleet on his new Wind Sup after the previous one exploded! A very healthy 17 races where held over the two days with Dylan Chick coming out on top with 7 wins.
Dylan Chick

Brian Tilbury

Elliott Brown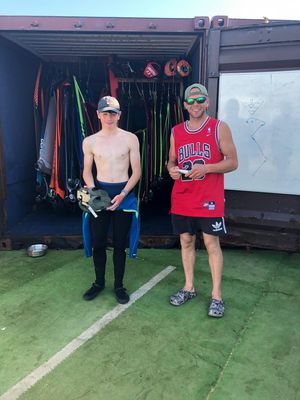 WingFoil Fleet
With no races on Saturday, 8 rounds of racing where held on Sunday in contrasting conditions. Rafferty Read was back for a few days in between his International duties and despite kit failure in race one, and a penalty in race two for forgetting his Tally (should know better) it was he who came out on top with 6 wins in a fleet of 12.
Overall

Rafferty Read

Overall

Hugo Dobrijevic

Overall

Joey Adams
Junior Hugo Dobrijevic
Youth

Rafferty Read
Senior Joey Adams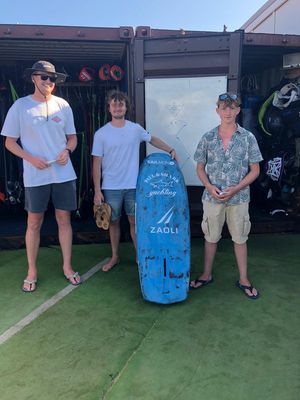 National Fleet
After waiting until nearly 3pm on Sunday afternoon waiting for sufficient wind things got a little frantic amongst the National Fleet Sailors. From next to nothing all of a suddain we saw gusts of 30 knots. This caused much confusion as sailors ran around rigging smaller kit before taking to the water. Somehow the race team managed to get 4 races before the 4pm deadline. 14 sailors took part 13 on slalom kit and 1 in the new Freeride class. With 3 different winners results where close.
Overall Scott Norman
Overall

Olav Davis

Overall

Zack Peaple
Junior

Scott Norman
Youth Girl Lilia Yelland
FreeRide

Charles Milner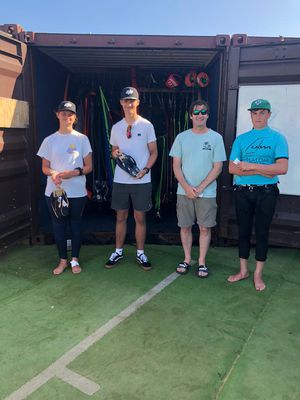 International Fleet
This season it is up to the Race Officer to select the equipment which will be raced by The International Fleet. The decision was made to race Foils on Sunday morning which saw 13 sailors have 6 races.
Overall

Scotty Stallman

Overall

James Faley

Overall

James Dinsmore
Lady

Jenna Gibson
Junior

Beau Handley
Youth

Scotty Stallman
In the afternoon the wind increased and the instruction went out for The International fleet to swithch to fin. The 13 competitors had a further 3 races. The format changes but results stayed the same.
Overall Scotty Stallman
Overall James Faley
Overall James Dinsmore
Lady Jenna Gibson
Junior Beau Handley
Youth Scotty Stallman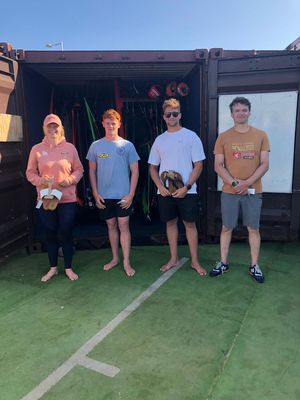 Full results are here
Series results are here
Photos by Andy Stallman here & here
Your Volunteer Team
Safety Boat- Alastair Morgans, Rod Murray, Andy Stallman & Stuart Keep
Race Officer- Tessa Ingram
Committee boat Crew- James Palin
Masterblaster - Brian Tilbury
Admin- Sue Ingram, Brian Tilbury, Ann Tilbury
Scorer- Anne Walsh / Michael George
Buoymaster- Brian Tilbury
Event Sponsors


WingFoil Sponsor


Tour Sponsors
Tabou / GA Sails -
OTC The Official Test Centre
K66 / Fanatic / Duotone / ION
Simmer O'shea / Puravida
4Boards
JP / Neil Pryde
QuiverWindsurfing / Goya / Quatro / Kachina Clothing
Starboard / Severne
Boardwise
The Beach Company
Windsurf Magazine