Tiree Wave Classic 2009
3 August 2009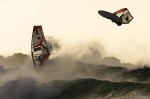 The Isle of Tiree, Scotland, Saturday 10 - Friday 16 October
GMFCo and EventScotland are proud to announce that the UK's premier windsurfing competition, The Tiree Wave Classic (TWC), will return to Tiree from 10 - 16 October. The TWC was set up in 1986 and, due to its long-standing success, was upgraded to World Cup level in 2007. The event has dedicated worldwide TV coverage and attracts hundreds of visitors to the island each year, making the TWC the island's biggest annual economic driver.
At the 6-day event, extreme adrenaline fuelled action is guaranteed as some of the world's best windsurfers come together to brave the full Atlantic furies of wind and waves off this remote and exposed island to compete in freestyle, wave jumping and supercross.
Tiree is the most westerly island of the Inner Hebrides and the event has helped boost tourism throughout the west of Scotland enormously. The Isle enjoys a mild climate and claims the most sunshine hours in the British Isles, as well as the highest average wind speed. Exposed to powerful North Atlantic swell, extreme winds and breathtaking white sandy beaches, Tiree will offer the mobile event a vast range of conditions to determine a worthy winner. Tourism Minister, Jim Mather, commented:
The Tiree Wave Classic not only showcases the beauty and raw power of our west coast waters but it also draws in people from all over world and shows Scotland in a exciting new light. I wish it and its competitors well.
This year will witness the 23rd anniversary of the competition and Glasgow-based marketing and events agency, GMFCo, will be entirely responsible for the sponsorship, promotion, marketing, TV production and PR of the 6-day event. With EventScotland and other funders now on board, everyone involved is hoping that the TWC will regain the World Cup status for their 25th silver anniversary in 2011.
Paul Bush OBE, Chief Operating Officer at EventScotland, said:
EventScotland has invested in the Tiree Wave Classic since 2003 and has supported the event during a period of growth, both in size and in popularity. The Tiree Wave Classic is now widely considered one of the best and most challenging UK sporting events and it continues to attract spectators and participants from around the world, as well as generating sensational footage for broadcast across the globe. EventScotland is confident that the competition will continue to attract world class windsurfers, enthusiastic crowds and the world's media as we prepare for another action packed event.
[gallery link="file" columns="2"]