Speedweek winners
27 October 2011
Kev Greenslade and Zara Davis win UKWA speed championships two years in succession.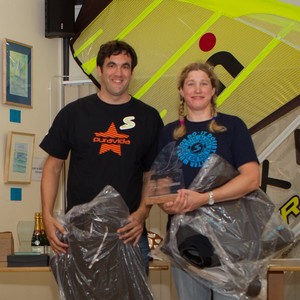 UKWA National Speed championships sponsored by Spartan wetsuits took place at Weymouth Speed week last week and delivered the goods in terms of wind. Racing took place over seven days with Monday and Tuesday being the best.
We had 34 UKWA entrants this year for the Spartan Wetsuits UKWA Speed Trophy including the cream of the UK sailors making an appearance and racing was close. Kevin Greenslade took the top spot for a second year on the trot ahead of speed specialist from Guernsey Martin Ogier in 2nd place and Ant Baker hoping for a Speed and Slalom double had to settle for third. Zara Davis won for the ladies for a record 4th time and came a creditable 10th in the overall UKWA rankings.
Picture courtesty of Dave White.
Ranking for UKWA speed 2011
| | |
| --- | --- |
| 1 | Kevin Greenslade |
| 2 | Martyn Ogier |
| 3 | Antony Baker |
| 4 | Bob Cunningham |
| 4 | Ian Richards |
| 6 | Nigel Spriggs |
| 7 | Michael George |
| 8 | Matthew York |
| 8 | Daniel Skudder |
| 10 | Zara Davis |
| 11 | Allan Cross |
| 11 | Jamie Walker |
| 13 | Adrian Wallis |
| 14 | Paul Morris |
| 15 | Richard Hobson |
| 16 | Tony Attfield |
| 17 | Dave Strudwick |
| 18 | Dave White |
| 19 | Guy Cribb |
| 19 | John Mcintyre |
| 19 | Gavin Nicholson |
| 19 | Nicholas Dodd |
| 23 | Jim Crossley |
| 24 | Simon Pettifer |
| 25 | Nick Beaney |
| 26 | Stephen Chatten |
| 27 | Mark Collins |
| 28 | Neil Greentree |
| 29 | Martin Allman |
| 30 | Mark Hatton |
| 31 | Trevor Funnell |
| 32 | Eddie Murrell |
| 33 | Gordon Roach |
| 34 | Charlie Wilson |