Poole Slalom - Aug 2nd
5 August 2012
Perhaps the lightish forecast put some off, but those that turned up enjoyed an excellent little session.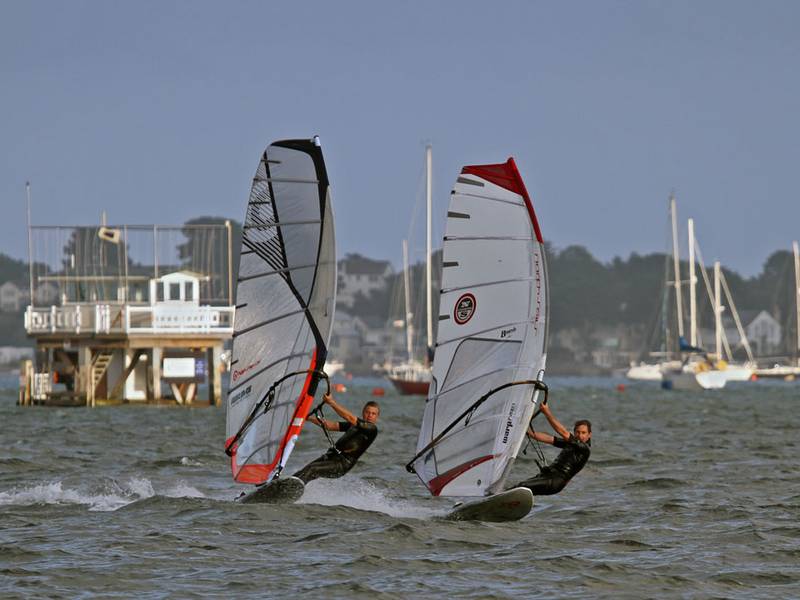 We ran wellover 10 races on a figure of 8 course, the inside gybe mark placed close enough to shore such that if one was particularly vain in the hunt for Mike Millard's camera lens (and purposely directed their gybe extra wide), then the result was a good fin grounding (ahhemmm Mr Spriggs)!!
The wind did vary, but most of the fleet were planing about 80% of the time with their 7.5m's to 7.8m's, not ever being truly maxed out or hanging on. luckily i had gauged that fact before hitting the water and had opted for the biggest fin i ever run with my board and 7.6m. This was largely responsible for me winning the first four or five races as opposed to any outright skill i should imagine!
We were running handicapped starts, and in the lighter breezes this meant that heavy weights Gary Connell and Roddy Cooper were first to get away, usually along with newcomer fifteen year old Rachel Horton, who proved that at Poole Slalom anything goes kit-wise with her Racing Long Board! Indeed, the board proved to be just the ticket for one of the lightest wind races as she took first spot convincingly, and whilst always seeming to stay dry whilst grown men all around were dropping like flies.
Late arrival Simon Pettifer was quick to mix things up with a tidy display of gybes when he hit the water, and Gavin Furmenger put his light weight to good use by taking at least one first place and usually finishing in the top three.
A great evening all round, thanks to all who made the effort.
More pictures in the gallery.