Slalom 3 - Master Blasters
5 June 2014
Aberdovey 31st May – 1st June
Ahhh… Aberdovey. So beautiful, yet so fickle.
We arrived on Friday evening to find that the most hotly contested competition of the weekend had already begun – the race for the best parking spot. Prime position was taken by the Body family, with the Pettifers coming a close second. We found the gang congregated by the Bodys' orange van and enjoyed a few drinks overlooking the beautiful Dovey estuary as the light slowly faded.
Last to arrive on Friday night were Kevin Greenslade and Simon Cofield, who made the tortuous journey along the Welsh roads towing Ross Williams' mega-trailer full of Gaastra and Tabou demo kit. Apparently Welsh drivers were thrilled to find themselves behind the trailer and made friendly hand gestures to Kev and Simon when they cheerfully overtook them.
Saturday morning brought sunny skies and a light breeze. There wasn't enough wind for the Pro and Amateur fleets to race, but light winds won't stop the Master Blasters from getting out on the water. This time we had 6 competitors: regulars Charles, Mandy and I were joined once more by Kacper, plus we had a new lady sailor among us, Anne Welsh, and then the master of all Master Blasters, our race official Brian joined in the racing too.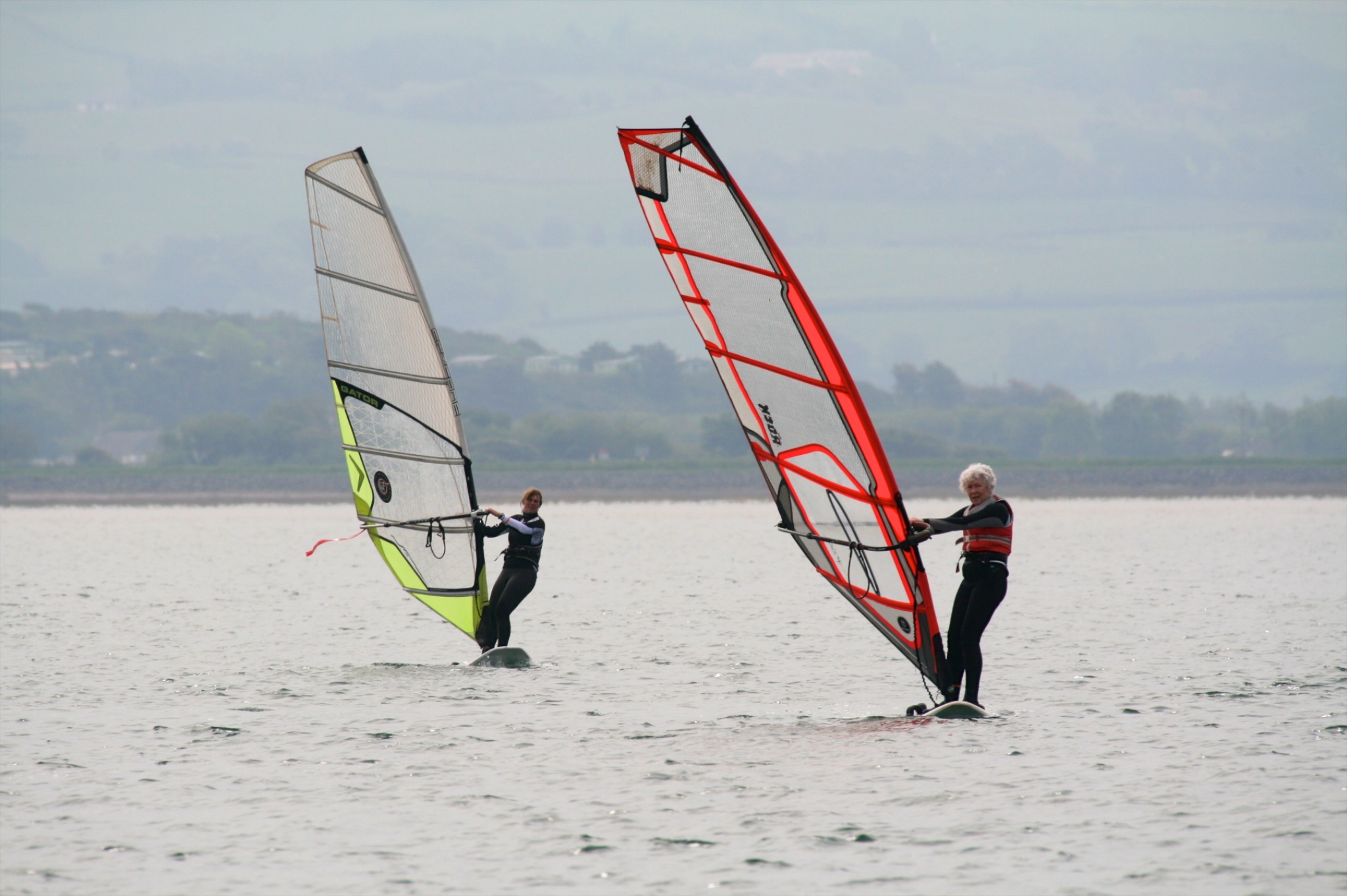 As the wind was light I decided to borrow a 6.5m Gaastra sail from Ross's demo kit, to give me a better chance of keeping up with the fleet. Kev and Yann kindly rigged it for me with one of Ross's 100% carbon booms (what luxury), but as I set off for the first race, I found it had no uphaul, so had to run up the beach to get one, missing the first race. That'll teach me not to check my own kit before heading out!
After the false start, racing on Saturday went well for me. My gybes got better with each race and it was enjoyable to sail with a westerly wind as the tide flowed in the opposite direction out of the estuary. The racing was fairly close, although Brian easily overtook us all on his raceboard. For each race he started last, and then we could hear his board skimming through the water as he sailed past us.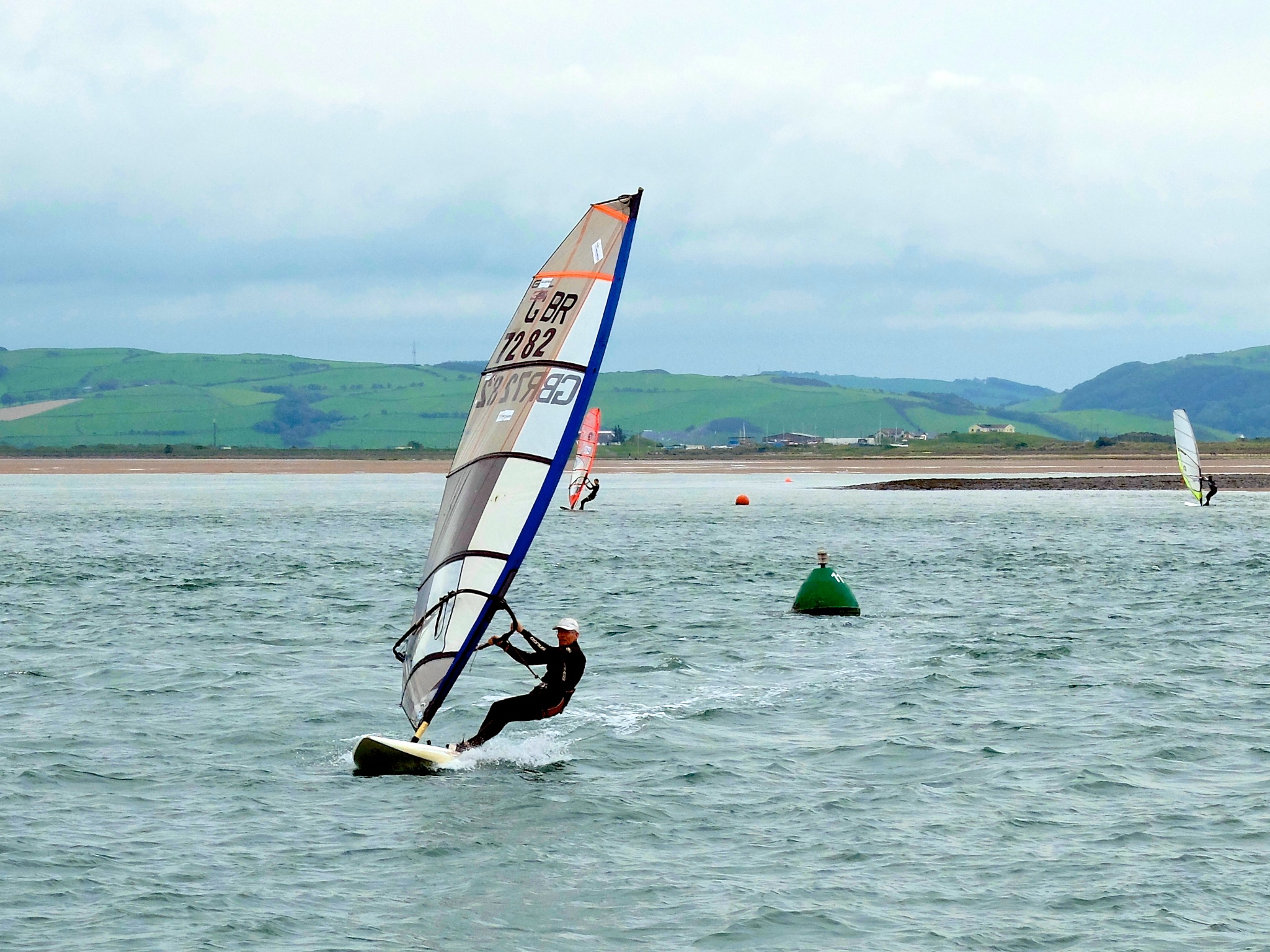 Charles and Kacper were up ahead too with their 8m sails, whilst we ladies were closely matched with both Mandy and I sailing with 6.5m sails and Anne a little bit slower with a 5.7m.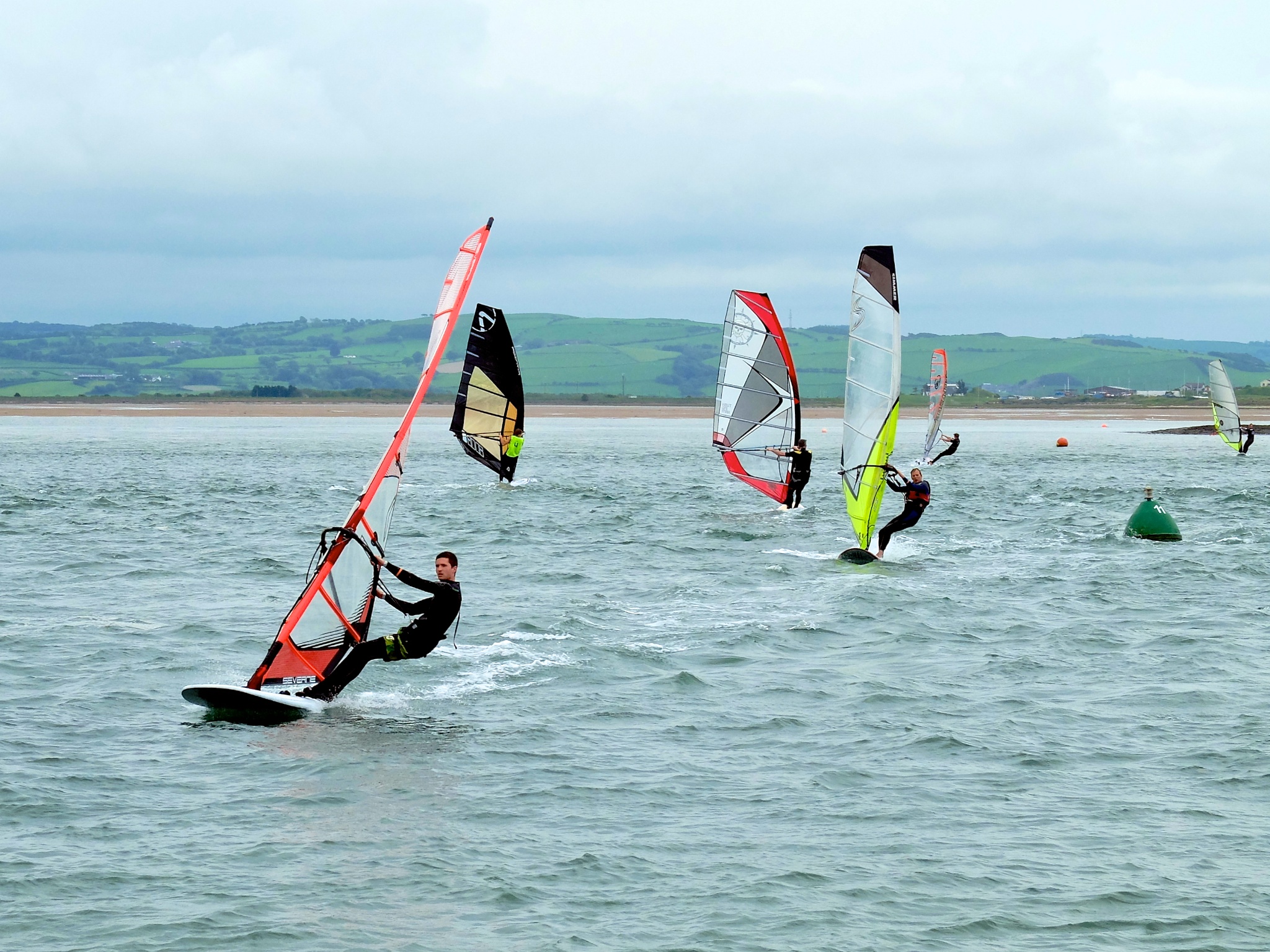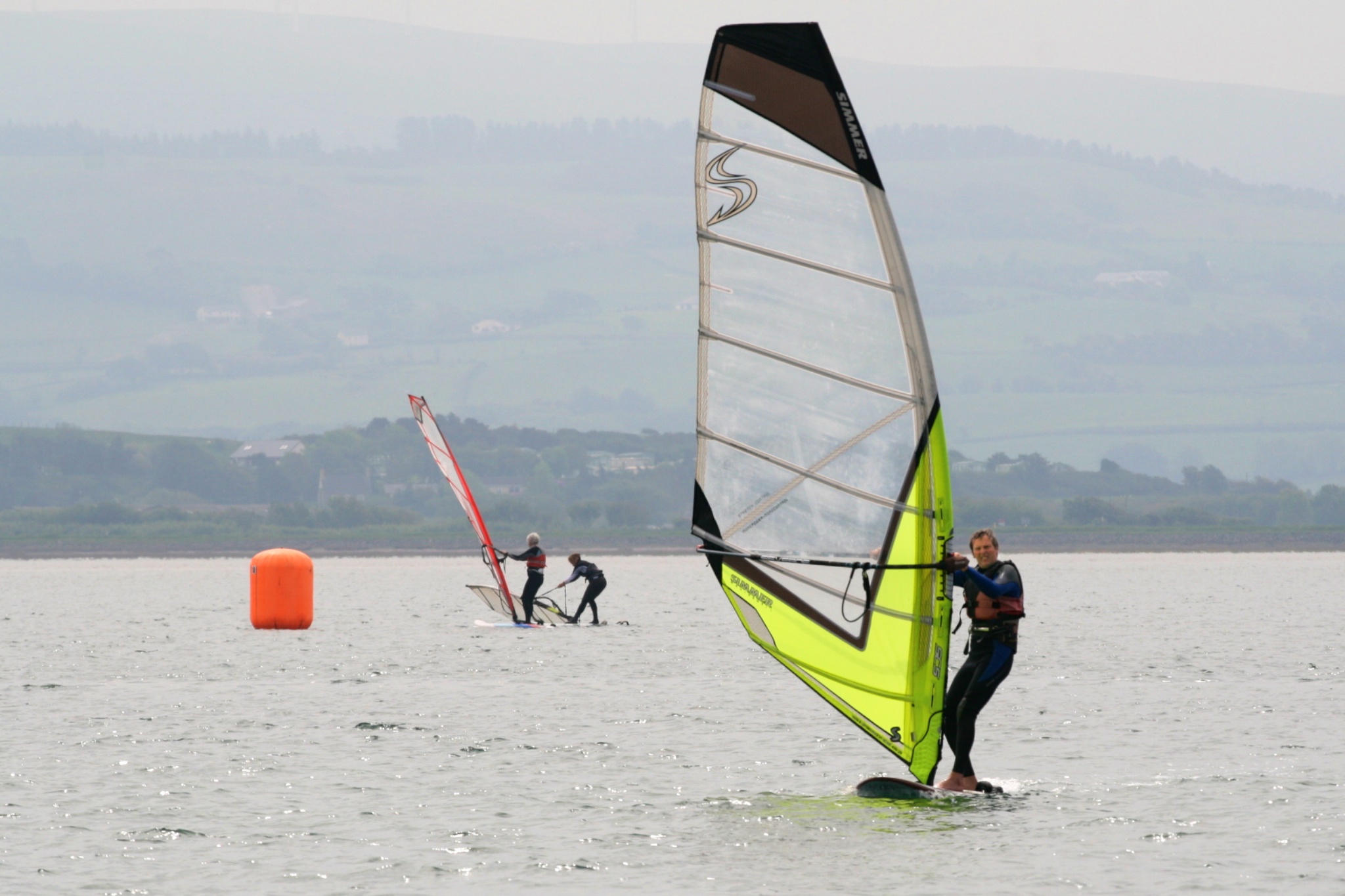 We raced until there was no longer enough water around the gybe mark and we'd all felt our fins bumping along the sand after gybing. I finished Saturday in 4th place and felt happy with my sailing. In fact it was so nice out on the water that I even stayed out after we finished racing to carry on practising my gybes.
On Saturday evening there was a great party in Aberdovey Yacht Club, which brought the second most hotly contested competition of the weekend: the upside-down drinking race. Kev Greenslade clearly distinguished himself as a champion upside-down drinker, whilst we also saw some great young talent from Tom Wells and Nick Welsh. Well done boys – it's a gift that will serve you well in life.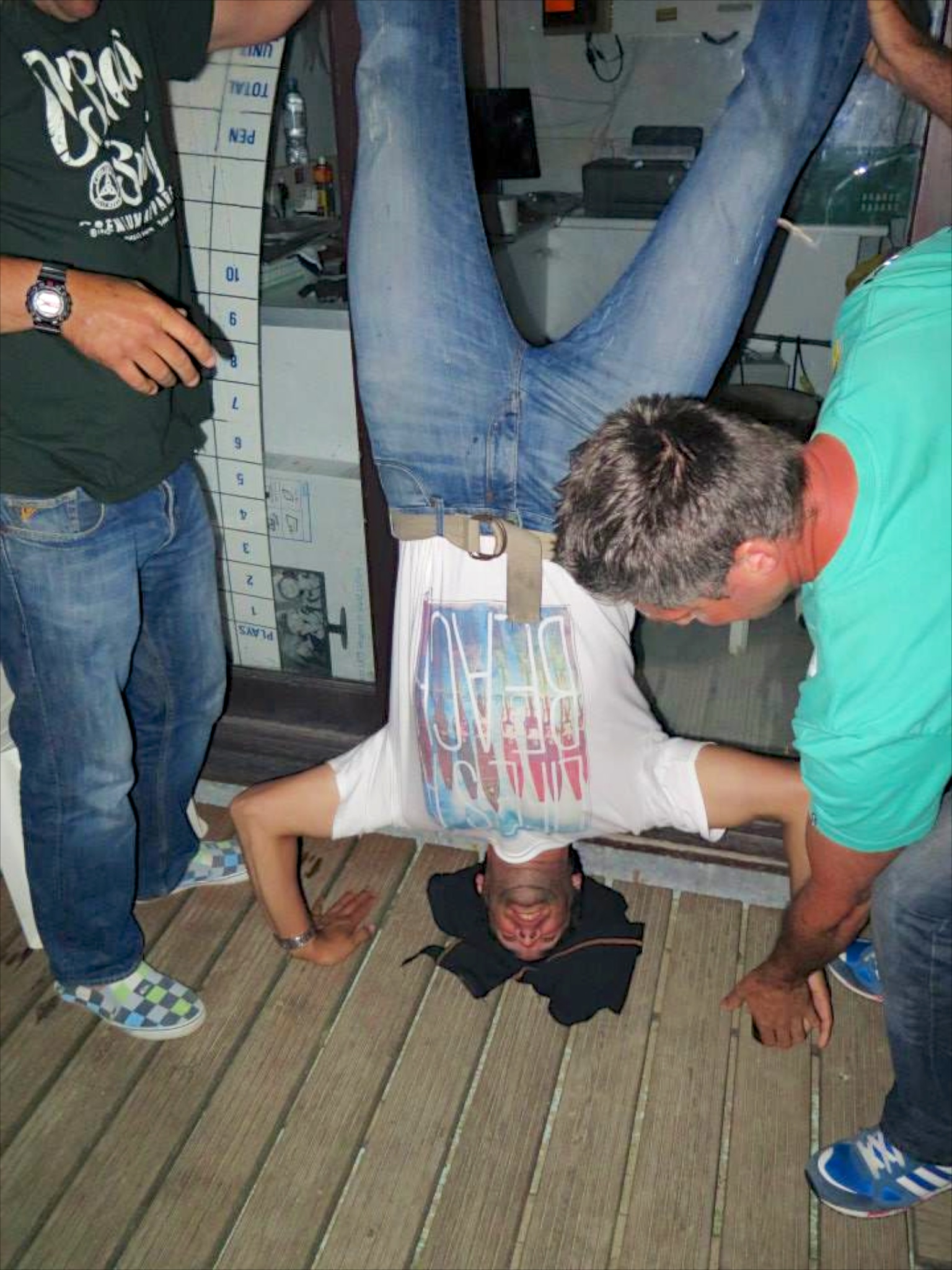 There were a few bleary eyes on Sunday morning, but the Master Blasters were bright-eyed and bushy tailed. Brian got us straight down to the water after the briefing to start racing. At that point, the tide was still coming up and the wind was very light in the same direction. I felt dubious about racing before the tide turned, with visions of us all getting washed up the estuary. As we embarked on the first race, we made it about 10 metres out from the beach before we all started heading up the estuary at an alarming rate, unable to sail against the tidal current. Brian called out for us to abort the race and turn around, but it was already too late for most of us to be able to make it back to the beach. Luckily the rescue boats were on hand to sweep us all up and bring us safely back. (Thank you!)
After that little adventure, we decided to wait until the tide turned before doing any more races. When we resumed, the wind was still very light and I personally found it challenging to beach start with the tide rushing under my board and the wind barely strong enough to lift the sail. Uphauling was equally treacherous, with the current sucking the sail down below the surface before I could lift it up.
Mandy had made a shrewd kit decision and borrowed a wind-SUP with a dagger board from the Starboard demo kit, which enabled her to whizz past most of the fleet, while the rest of us struggled in the tidal currents and light wind on our short boards.
In the afternoon the wind picked up a bit and we had a few more races, but my bad form continued, as I randomly fell off at different points around the course, which was very frustrating. When racing came to a close on Sunday afternoon, I lay in 5th place.
First place was taken by Brian, who easily took the lead on his race board. Second and third place were taken by Charles and Kacper, and Mandy came in fourth.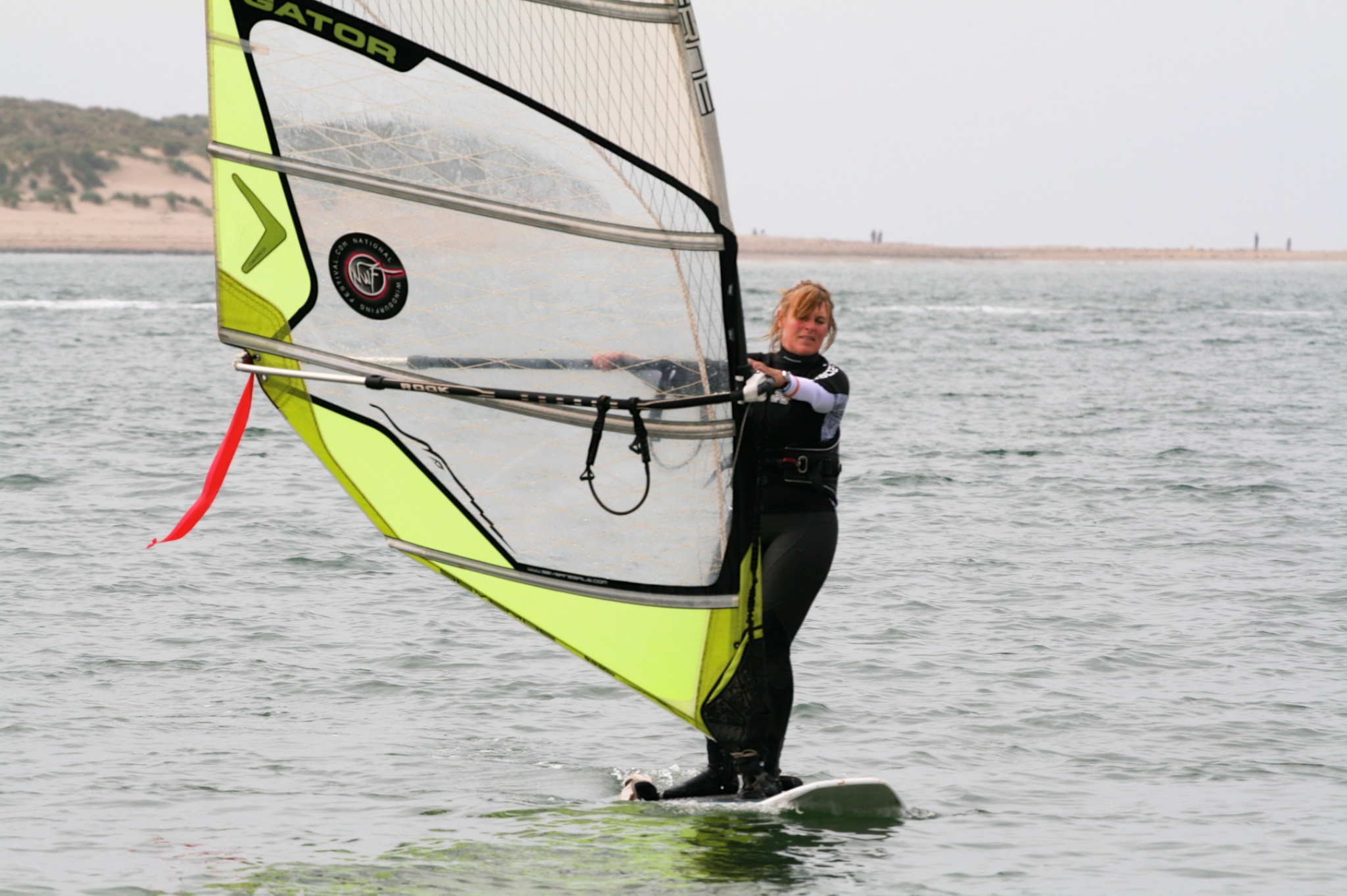 All the Master Blasters won prizes thanks to Nik Baker at K66. Now we're all fully branded ION Blasters!
Despite finding the racing a bit frustrating on Sunday, it was, as ever, a hugely enjoyable weekend – great to get together with the gang, in a very beautiful spot, with fantastic hospitality from the Aberdovey Yacht Club, and loads of demo kit for everyone to try.

Thanks again to the event sponsors Boardwise and K66, and to the race organisers, especially Brian, for getting us out on the water both days.
Yann and I will be away in Turkey for the next slalom event – so while everyone else is racing in Worthing, we'll be sailing in the warm waters around Ortakent. Any volunteers to write the race report while I'm away…?
Thanks to Melanie Pettifer and Lucy Perkins for the photos in this report!