UKWA Speed Champions
10 October 2015
The winners of the UKWA Speed Championships sponsored by Hey Dude Shoes are as follows.
Women's fleet:
1st: Zara Davis (RRD/Simmer)
Men's fleet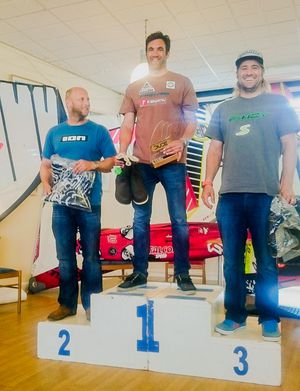 1st: Kevin Greenslade (Tabou/ GA)
2nd: Jim Crossley (Fanatic/North)
3rd: Simon Pettifer (Fanatic/Simmer)
The championship saw 4 counting rounds, all very hard fought throughout the fleet. The early leader was Jim Crossley putting in doubt that Kevin Greenslade would take his 5th consecutive UKWA Speed title. But Kevin came back hard using his local knowledge to take first place in the final three rounds. Kevin also took the fastest of the week with an amazing run of of 33.34 knots over the 500m course in less than 26 knots of wind. Third place was taken by Simon Petiffer.
The conditions this year were tough as the usual South westerly winds did not come through.The speed course had to be set further out in the harbour where the chop made fast speeds more difficult. But it goes to show that with modern slalom and speed equipment that fast speeds can be achieved. As majority of the top riders were achieving 30 knot runs in only 20 kn of wind.
Thanks to our sponsor for this event Hey Dude, who provided prizes for our winners from their autumn/winter Collection.