Div II Racing
27 April 2016
"Nothing goes up wind quite like an Open division II windsurfing board, it glides through the water rather than flying over it and certainly ressembles less a surf board than a dinghy, Railed up on its rounded bottom, it is a unique pleasure to sail in 10 to 15 knots of wind...What is an Open Division II windsurfing board?
In the 70's, windsurfing was dominated by the American patented "Windsurfer" but a few people in Europe were interested in developing other type of boards in order to maximise performances for regattas set on a typical olympic triangle, the boards being lighter, longer and with a more rounded hull. The first world championship using the one make "windsurfer" took place in 1976 with the discovery of a young Robbie Naish but only 3 years later the first "Open" world championship was organised in Guadeloupe for free types of boards keeping within the class specifications. I won't bore you with the ever changing details in the rules other than to say that a typical "Open divII" board is 3900 mm long, around 630 mm wide and 220 mm in depth with a round bottom along the full length, a deep pointed bow or rounded one and a minimum weight of 18kg. The first world champion was Karl Messmer on a prototype Mistral which quickly evolved to what was named M1 and which would dominate the class for another 2 to 3 years. A few interesting characters took part in that first event, a certain Stefan Van der Berg (12th) will become the first Windsurfing Olympic champion on a Windglider in 1984, Stephane Peyron(35th) the first windsurfer to cross the Altlantic on a tandem and a second time alone across the North route, Robert Nagy (8th) will be several times a world champion, the Americans Alex Aguera (7th) and Cort Larned (27th) would be more known on wave events, the first lady Marie-Annick Maus would finish 16th overall beating the only british entry Fraser Black (38th).
While windsurfing evolved to short boards wave jumping In Hawai, Europe embraced long boards with a daggerboard and it became the fastest growing sport on the planet. Regattas were everywhere, flat or open waters, small clubs or big promotional sponsored meetings attracting 1000 sailors like on the Cote d'Azur in France, ladies, light weights, heavy weights, juniors or seniors, everyone racing together.
France was probably the biggest market for the open division II class and many champions graced the top steps of most European and world championships over the decade, names like Robert Nagy, Gildas Guillerot or Michel Quintin were difficult to beat with custom made prototype boards. After the very expensive but dominant Mistral M1, the Crit D2 came along and dominated the next two years or so but many manufacturers made some fantastic boards, Jet, Magnum, Dobbelman, Sailboard, Oceanite, Tornado, Reix, Lechner, Davidson. Boards shaped like a surfboard or made from a mould, production or prototypes competed against each other as long as they kept within the regulation.
England was also experiencing a windsurfing boom and went through their divII racing across the country, sailors like Dee Caldwell, Barrie Edgington, Andy Biggs, Simon Keeler, Dave Perks, Chris Clements, Nick Tillet, Fraser and Ken Black, Graeme Fuller to name a few of the early 80s sailors and also ladies like Penny Way, Liz Robinson or Michele Gall. Among them Both Barrie Edgintgton and Penny Way became world champions and represented team GB at the Olympics on a Lechner A390. In 1984 Windsurfing was introduced at the olympics and while politics dictated the choice of windglider, it nevertheless paved the way for more refined machineries, the very advanced divII Lechner A390 was chosen over the equally fast Davidson divII for the 88 and 92 events until the sport took a different tack thereafter with boards closer associated with planing rather than with deplacement. The open divII class slowly fizzled out after 1992.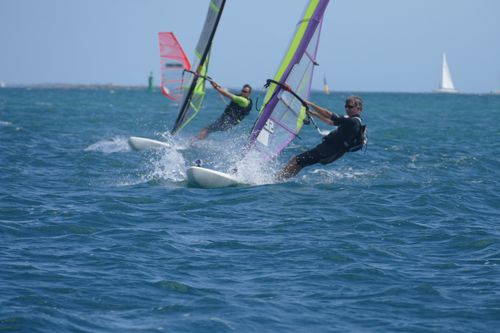 But enough on the history of the open divII class and more about the present and why i still love sailing on many of my old boards…For me windsurfing is not just about a surfboard with a sail, a lot of wind, no daggerboard and just a fin but it is also about using every other forms of sailing with a board, be it a slalom board, a wave board, a speed board, a raceboard or a indeed a divII board. Sure it is exciting to fly over the water at 35 knots or jump waves with boards below 100 litres but windsurfing is also about using a daggerboard to sail around regardless of the wind direction or strength, it is about exploring the whole sailing area available and not just a narrow corridor. Using an old fashion rounded divII board is not only for racing purposes but also offers a majestic tool to chill out on the water when the wind is below 20 knots and not blowing from the perfect direction. The technique required to jibe one is almost opposite to a short board but once the basics are mastered, it is an exercise worth trying. The divII boards never really died out and many sailors kept and used their boards over the years, marrying them with modern sails which made their use even easier and exciting. DivII boards did not use to have footstraps and the early models even had a fixed daggerboard and one mast foot position which made their usage confined to light wind conditions but technology did evolve to make them much easier to master. Footstraps, fully retractable daggerboards, an adjustable mast track make them a very accomplished weapon capable of competing against a modern raceboard in the right conditions and certainly a very fulfilling experience over 20 knots of wind...Over the last 5 years, around 1000 people got together on Facebook and joined up to talk about their shared hobby in order to go "back to the future" racing their beloved machines again. Many events were organised across Europe but mostly in France where up to around 40 sailors competed again each other. Beyond the competitive instinct, many were just happy to be part of this revival using an old type "A' or "B" sail or investing in a state of the art modern raceboard sail. A new association was created alongside the IWA to promote and control this old class. This effort is now providing the opportunity to compete this year during the Raceboard European championship taking place in Brest, a few former champions are likely to take part like Jonas Davidson (former world champion) or Alain Cadre (vice-European champion) but also younger sailors like Nicolas Legal coming from the current olympic RSX class. I believe that we should see around 50 entries for this revival during what should also be a very exciting Raceboard meeting. I strongly believe that both classes do share many great qualities that should manage to attract many youngsters from the techno class. However good the old sailors are ( and many are still very competitive), we should aim to show a younger generation than racing around a course with a raceboard or a divII board is a very exciting exercise. I believe that any windsurfing racing class with a daggerboard not only share the same DNA but also aspire to the same objectives which is to attract again more and more youngsters racing on the water or just happy to sail around like a dinghie. The golden age for windsurfing was in the eighties and one could argue that short boards have restricted to the sport while taking it away from the mainstream.
Who knows! we might come back full circle?"
Florent Lambert