BWA Ireland 2012
24 May 2012
The British Wavesailing Association Tour round 2 saw the adventure head straight on from Anglesey in North Wales, leaving the port of Holyhead to Dublin. With huge thanks to the support of STENA LINE, a convoy of equipment packed cars and motorhomes began the journey taking them all the way to the far South West Ireland of Brandon Bay.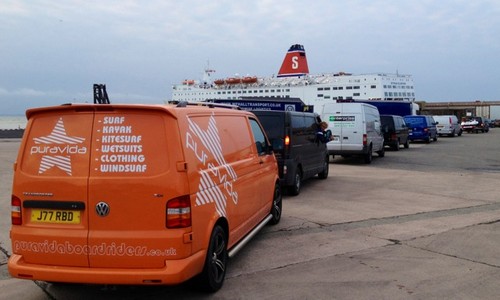 Day one and after very little sleep it was straight into the action:
Jim Brooks-Dowsett, BWA:
"We had a wild crossing with so much wind and swell, which meant that the best wave spots were firing when we got there! A few hours sleep and we went straight into competition mode in the stunning setting of Brandon Bay, big waves and sunshine!"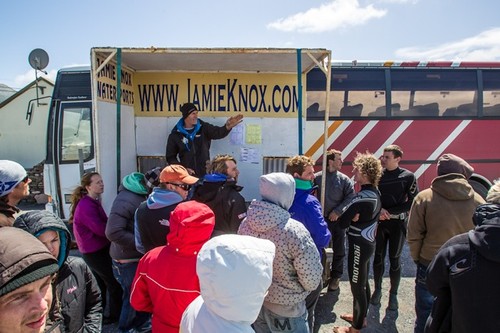 The family run Spillanes Bar in Castlegregory were the perfect hosts and worked closely with Jamie Knox, Puravida Boardriders and the BWA to deliver a week long competition with as many rounds for the competitors to complete in as possible. Spillanes not only hosted but kindly put up 1000 euros to attract and reward the top names in the UK sport!!
On the few days with light wind the surf was glassy clean and everyone enjoyed getting out on the water and surfing, SUPing and even tow-in surfing some waves in Brandon bay and Dingle along the coast. We were so lucky to get spots like Mossies outer and inside reef firing, waves all along the coast from 'dumps' to 'Gowlaine".
Phil Horrocks:
"Wearing the yellow Jersey means lots of pressure, but that went out of the window when I saw how good the conditions were! Ireland is one of the best places to windsurf around the Globe and I'll come here time and time again. Great week of conditions...."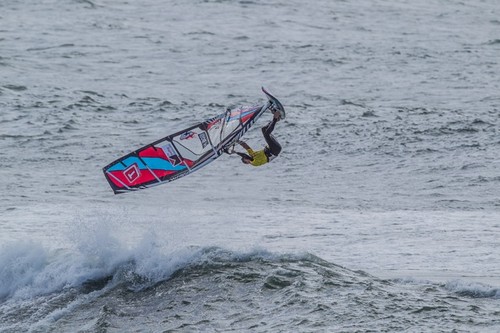 The professional riders were all sailing well in the epic conditions making it hard to find a clear favourite. The top 5 was very close, and James Cox (Ezzy) charged trough the heats with some real standout riding to finish 4th. After some of the best waves seen in an Irish competition John Skye (RRD) impressed the judges and came out victorious with Jamie Hancock (Gaastra/Tabou) climbing up into 2nd place ahead of Wales winner and team-mate Phil Horrocks (Gaastra/Tabou). This leaves the podium spots wide open going into Tiree and riders like Timo Mullen (starboard) keen to fight back!
John:
"Wales was tough and I really wanted to win here in Ireland, especially in such world class conditions. So many of the guys were ripping and a few of the favourites didn't make the final as the standard was so high. Pretty stoked to get it and still be in with a chance for the championship"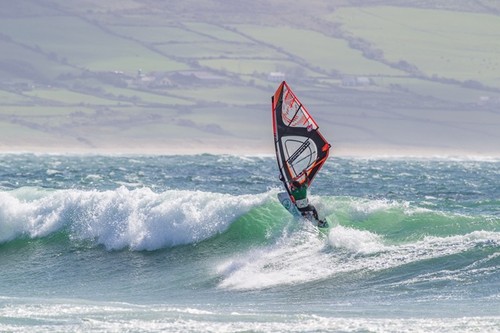 One of our top judges Ian 'Bilbo' Ross (Puravida/Simmer) took the Amateurs by storm in conditions just like his home breaks in Cornwall. He's taken a break during the Am's to compete this year and we can really see what makes him such an asset to the BWA. It was not made easy though with local ripper Niall Mellon close behind him on home turf, and Alfie Hart (Boardseeker) with another solid performance in 3rd. 4th place Emile Kott (Goya) really caught the judges eye too and is one to watch in the coming rounds.
Our legendary Photographer Dave White (RRD/Ezzy) took some time off the lens thanks to Tim Smith Visuals to join the masters fleet, and dominated from the off! Dave has competed on and off for over 25 years and his experience showed! Jan Sleigh from Cornwall who is also an experienced competitor took 2nd place and it was South Wales veteran John Greatrex (Puravida/Simmer) who was pleased to follow these guys to 3rd on the podium.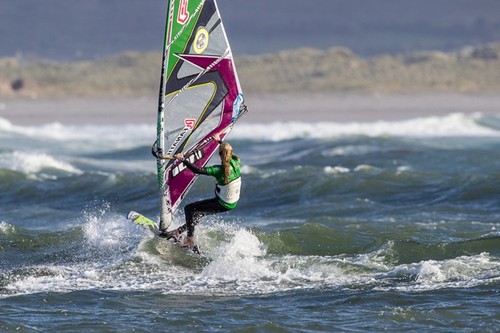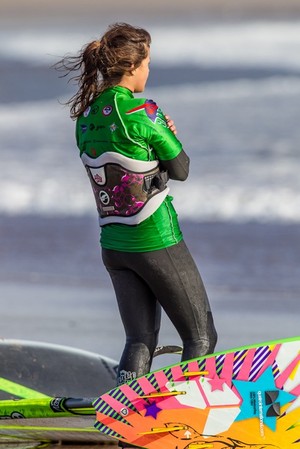 The women's fleet impressed again and a solid performance from our international guest Justyna Sniady was nearly enough but not quite in the end, who this time took 2nd place. She was just behind winning Cornish ripper Debbie Kennedy (Hotsails). Newcomer Sophia Gilje Joy (Puravida/Fanatic/North/Ion) earned a well deserved 3rd place as she did in Wales, showing just how much she has progressed since her first ever comp in Tiree last year. Cornwall Classic 2011 winner Lucy Robson (Puravida/Fanatic/North/Ion) lost out on the last day in some light conditions slipping down to 4th.
Lucy:
"We had some great wind early in the week, but I have to admit I don't practice enough on the light days at home! Next time I'll be ready with a floaty board and be prepared for any conditions....not just the good stuff"
It is no coincidence that Stena Line has supported the first two legs of the tour and more people have come than in any past years! Making the trip more accessible has just showcased the stunning surroundings that Ireland can offer and the BWA tour will return in 2013!
Alexandra Smith, Route Marketing Manager for Stena Line: 'We are proud to support such an exciting event - at Stena Line we know how important being able to pack in all of your kit and follow the forecasts to best windsurfing spots in the UK and Ireland is, so it is great to be able to work with the BWA and its members.'
With such great conditions and action in all fleets so far the Tiree and Cornwall events hosted by Puravida Boardriders and set to be all time, and the leaderboard could change dramatically! It's all to fight for in Scotland and England.....hope to see you there?!
BWA Ireland is hosted by Spillanes Bar with support from Stena Line, Jamie Knox, Kathleen McAuliffe, Kerry Sail Co and Puravida Boardriders
www.britishwavesailingassociation.com
Words Jim Brooks-Dowsett, BWA Amateur Rep