Hayling Slalom 2nd June
4 June 2012
After being thwarted by poor conditions in recent weeks the Hayling Slalom season finally got off with a bang this afternoon. The combination of low tide, 14-18 knots easterly and sunshine even tempted Michael George to make the trip down from Milton Keynes. The perfect conditions enabled us to run 12 races of 3-buoy downwind slalom. We had a mixture of newcomers to racing and seasoned campaigners on sails from 6.5 to 8m.

Apart from a brief problem with a wandering buoy it was a cracking afternoon and you could see the buzz in the eyes of the sailors returning to the beach after each race. The club is very inclusive, aiming to introduce people to racing, and to give them the chance to improve their windsurfing by having the opportunity to learn off others.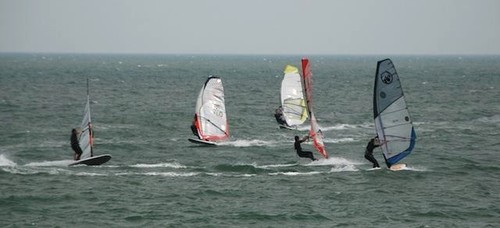 In between races I was pleased to to hear discussions between sailors on topics like what is the best line to take round the gybe mark and how to choose the right sail size. After race nine most sailors called it quits but a few of us continued so that latecomer Allan Cross could get a couple of races in.
Throughout the afternoon the racing was very competitive and everyone was sailing well. Relative newcomers to slalom racing Paul Shotbolt, Rob Solly and Marti Jerrard gave the BSA regulars a real run for their money.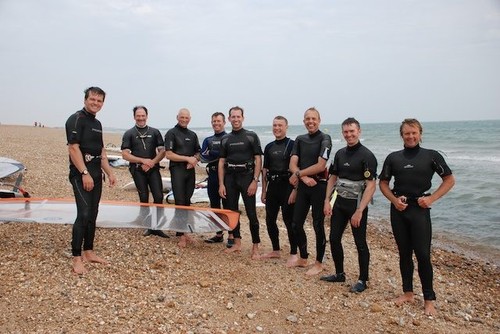 Can't wait for the next session. Looking at the forecast there a decent chance it could be on Wednesday.
Find out more about the local slalom group at Hayling.
- James Dinsmore