Poole slalom - June 21st
26 June 2012
Ed Britnell reports
On arrival at Baiter Park, the wind was still very light and still blowing from the wrong direction. However there was also a keen group of slalomers prepared to wait for the coming goods....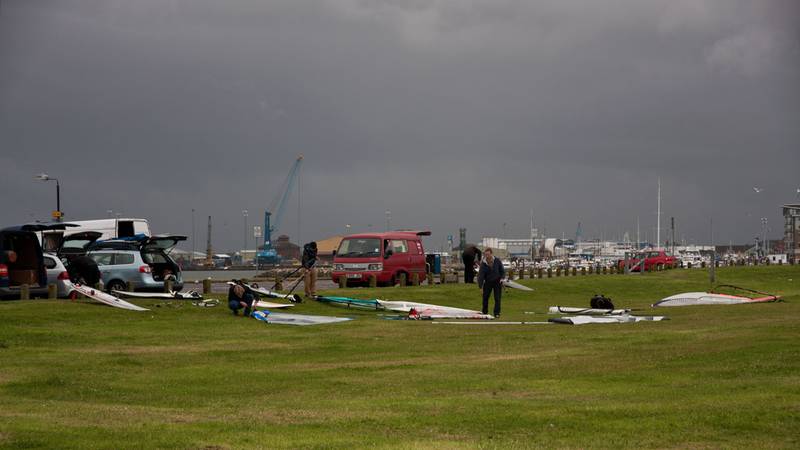 At about 6.30pm, the wind swung round and started to slowly increase .... First to rig up and get on the water was Simon Langley with his no messing approach and his 9.0m. But the best kit was a tough call as none of us knew how windy was it going to get and how quickly was it going to get there! .... Needless to say, the wind continued to pick up and it wasn't long before Simon had to beat a swift retreat. The Heavens then opened as the wind continued to pick up and Will Vincent was now absolutely hanging on to (but holding) his 7.0m. This was as good a cue as the rest of us were going to get, and so began a rigging frenzy of 6.0 to 7.0ms and sub 90 litre boards, everyone relishing the prospect of some small board action.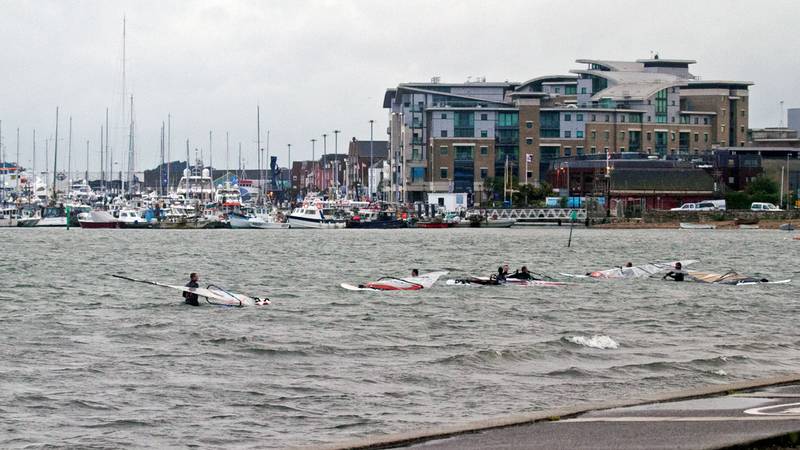 It was probably more or less the best wind direction for Baiter, cross onshore from the right, blowing through the gap in between Brownsea and the ferry. As the rain subsided, i hit the water with my 6.6m and 76 litre board and i found myself comfortable in the gusts but wanting more in the lulls. But it didn't matter because time was pressing on and we were all on similar kit anyway.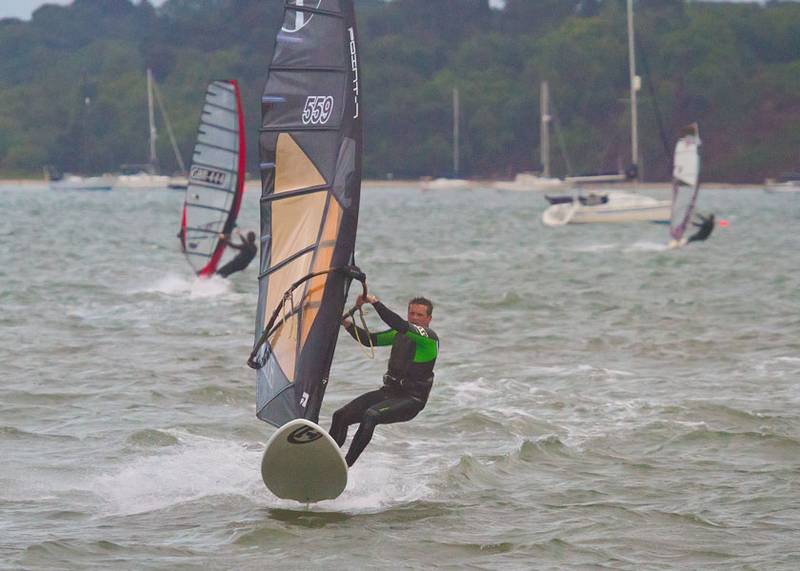 I laid a 4 buoy and 4 leg course with a gybe to finish on the inside. We must have started the first race at around 8pm although it felt earlier.... The experienced Mr Spriggs shot off in to the lead, but perhaps he wasn't expecting such a good performance as he clearly didn't bother listening to the course directions and went AWOL on the first leg! I was in 5th place wondering who out of numbers 2, 3 and 4 would then be led astray, but i was far too doubting because relative newcomer and 2nd placed Will Vincent clearly proved he has got what it takes "upstairs" to be a great slalomer, when upon seeing the correct first buoy, he aimed directly for it. Unfortunately for him though, at the mark i then managed to pull off a tidy planing gybe and exit ahead of the others and him, a position i maintained until the end. Just as well because it was the windiest race of the night by far and i was outsailed in the rest on my small board!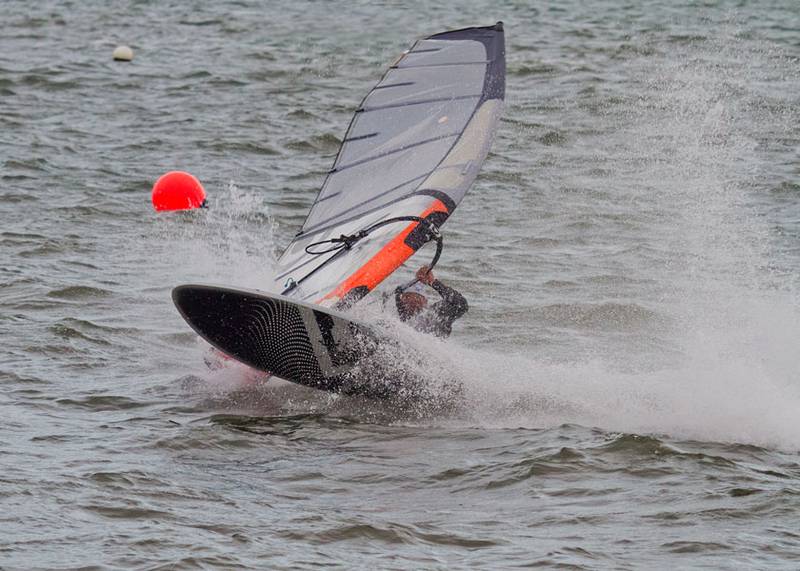 No such repeated mistakes from Mr Spriggs in Race 2 as he sailed a text book race to take the bullet, although at the next start i did notice his hat was wet so maybe there was a missed dunking somewhere along the line?! .... Race 3 and the consistently solid Chris Beng sailed away with the honours on his Freeride kit, making up for his lost fin later on (see pic) .... Race 4 and in the increasingly iffy wind it was our resident super fit 50+ year old (Simon Langley) who impressed again with his staminah to take the victory. Also, a big mention to Gary Connell who is improving well since coming to every Poole Slalom session this season and managed to grab several 2nds and 3rds on the night.
In the end i think we were all done and off the water by 9.30pm, everyone fully satisfied, a late one indeed.... a big thanks to Mike Millard who took the photos and does an excellent job of telling the story.
Apologies for my pumping action in the video that Mike took of Race 3!
Some more photos on Mike's Facebook pages.
Its currently looking breezey for this Thursday evening as well, so please expect to hear from Roger Clark regarding arrangements - Join for updates.