Farmoor Report
14 September 2011
The forecast for Inlands 5 at Farmoor near Oxford was rather ominous, and it turned out to be the windiest weekend we've had for many years at this venue. Most of the time it was blowing over 20mph and at times the gusts were well over 30!
Saturday was a grey day, but despite this the entry was 58 sailors - 14 Technos, 27 Raceboards, 2 RS:Xs and 1 Formula, with 14 on the Junior course.
The wind began to build gently as we went out for Race One, blowing across the lake from the far left hand corner and anticipating a howler many sailors opted for caution, but in fact Race One was fairly gentle and was won by Bob Ingram who had the right sail for the job. However those who changed back up again for Race Two received a rude awakening as the wind got into its stride and fulfilled the forecast. At the sharp end of the Raceboard Fleet youngsters Matt Brown and Chris Guest were slogging it out, ending the day with a couple of wins each. Two races were sailed in the morning and three in the afternoon, and we were tired and hungry when the barbecue appeared!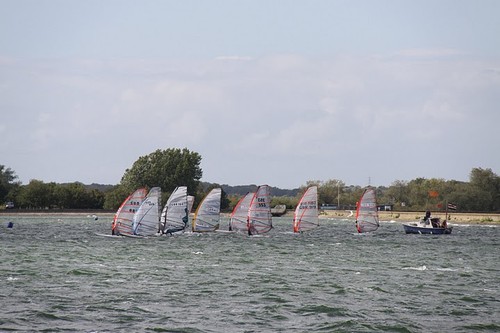 Meanwhile the 3.5, 4.5 and 5.8 Fleets were taking part in training organised by Charlie Money and Chloe Bennett and then they raced in the afternoon. Sunday morning found Club Race Official Bill Proctor dressed in his dinner shirt and bow tie - he had pulled a shirt out of his wardrobe the day before in the dark which had turned out to be a white shirt, Having had his leg pulled all day about this he decided to go the whole hog on Sunday and wear the bow tie as well, it certainly brought a sophisticated touch to the proceedings!
Sunday's wind was possibly even stronger, although slightly less gusty, James Moon won the first race but after that honours were divided once more between Matt Brown and Chris Guest. Three races were sailed in the morning, followed by two in the afternoon when the 5.8 sailors joined the main course.
Congratulations to Matt, Chris and James - overall 1st, 2nd and 3rd Raceboard - for showing the old guys how to do it, and also to all the Techno sailors, especially the 5.8s for braving the extreme conditions. Thanks to Oxford Sailing Club for hosting the event and making it such a success.
The Event and then the Inland Series Prizegiving followed, although some of the Series winners were absent at the International RS:X , Formula and Raceboard Events taking place abroad.