Formula Champions 2011
3 November 2011
Well that's another season finished and what a good year we had: racing at every event except one, and that turned out to be a really good weekend due to the warm weather. Every one seem to be relaxed, enjoying the sun and fishing. We even had some nice weather for the barbecues!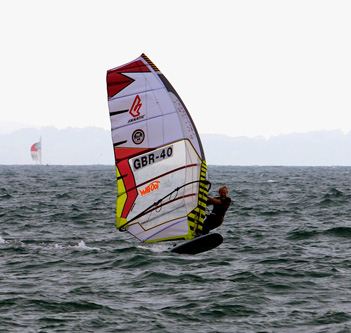 So back to the racing, and the season started of at Weymouth Dave Coles (Severne/Starboard) last years overall winner was to win the first couple of racers of the new season, but Richard Jones (North/Starboard) was soon back on form proving he is still the man to beat, taking the overall win for the weekend, followed by Tim Gibson (North/Gaastra) and Dave Coles in third. The most improved sailor over the winter months must be Nick Icke (Severne/Starboard) who lead the fleet a few times but faded away over the weekend due to a broken toe. Zak Page was the new youth sailor to move over to formula for this year and ended up finishing fourteenth overall.
Next event on the calendar was Minnus Bay and what an event it was, the wind was there in full force and again Richard Jones was on form winning the event from Tim Gibson and Chris Bond (Ka/Gaastra) making the podium in third. Dave Coles was at the event but did not race due to an incident in his motor home, all he could do was sit and watch and wonder what might have happened if he was on the water as he enjoys the strong winds, hopefully we shall return next year as this was a new venue and was enjoyed by both sailors and spectators.
Round 3 saw everyone move onto Mumbles in Wales this time Richard Jones did not make the trip due to work commitments but the racing was still very close at the front of the fleet with three sailors on equal points at the end of the weekend. After the split it left Tim Gibson 1st overall Chris bond taking 2nd, his highest position so far and Dave Coles in 3rd. Dave needed to have a good event here but a couple of bad decision left him in third leaving him a up hill battle to defend his title.
Event 4 and we headed North to Bridlington, where Richard Jones was back on form winning this one with Dave Coles in 2nd and Tim Gibson in 3rd. This was to be Richards last event of the season, leaving the overall title battle to be fort out between Tim Gibson and Dave Coles and a hopefull Chris Bond a bit further back. This was to be the last event before the summer break which saw a few of the sailors going overseas for some international events and Tim becoming a dad for he second time.
Event 5 and racing resumed at one of the best venues of the year, Chirstchurch, where the wind was again there in full force. Dave Coles was flying in the Strong wind taking first overall. Chris bond sailed extremely well to finish second overall despite, sailing with cracked ribs. Bob Ingram Gaastra/starboard made third, Tim Gibson had a bad event here leaving only one point between him and Dave Coles for the overall title, with one more event to go.
So back down to Weymouth for round 6, but this time there was no wind. This was a shame as past British champion Kieth Atkinson (North/Starboard) had dug his kit out, and James Briggs (Point7/Starboard) had driven all the way from Greece for this event. So, the results stayed the same as they where when we left Christchurch, leaving us with a new British champion: Tim Gibson who sailed consistently all year to take the overall title for 2011.
- Dave Coles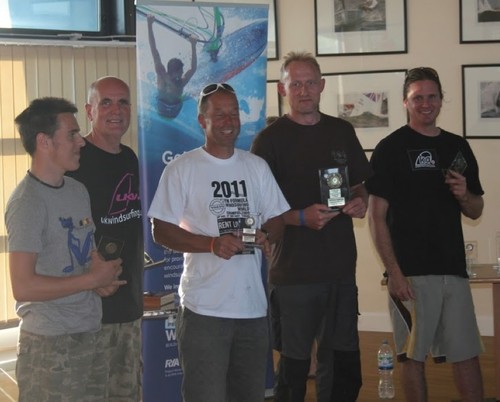 Overall results for 2011
Tim Gibson (North/Gaastra)
Dave Coles (Severne/Starboard)
Chris Bond (Ka/Gaastra)
1st National - Bob Ingram (Gaastra/Starboard)
1st Youth - Zak Page