Stena Line 4 - Formula
4 September 2012
So it was back to racing business, at Christchurch, after the summer break. The next instalment of the Stena Line Cup was however missing a few familiar faces. Dave Coles was away competing in Garda, Jason Clarke is now living the dream as a windsurfing instructor and poor Nick Icke made the mistake of mountain biking with me over the summer break and is now nursing a break of his own - his shoulder!! The rest of the fleet were raring to go with the welcome return of Aussie Mark and newcomer James Battye.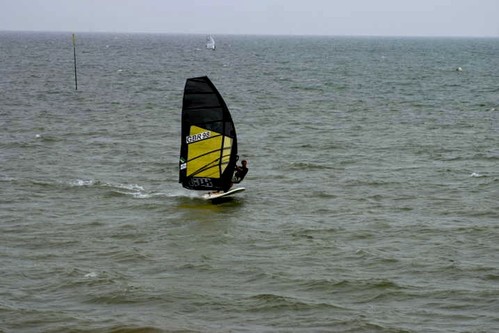 The only wind of the weekend came in around 2pm on Saturday and it was blowing a steady 10 - 12 knots with a pretty flat sea and the sun shining - perfect formula conditions! Most sailors were on their 11m with myself and Tim Gibson going 12m. The extra sail size certainly paid dividends and the advantage downwind was substantial. We managed to get 5 races in (getting off the water around 7pm) and the results were as never seen before. I, yes me, as in Bond won 4 of the 5 races with Tim just behind me and taking the one race I didn't win. So I got my very first ever event win and I've not stopped smiling since. I'm not too sure what the difference was but my new sails from Point 7 played a huge part. Making up the podium and winning the National 11 fleet was none other than our Bob Ingram who held 3rd in every race and was up with the leaders on the upwind legs.
The rest of the fleet had close battles with places being traded during races. A special mention must go to newcomer James who showed great potential in his first event. Our next event is Bridlington and I hope to see you all there for what has proved in the past to be a great venue.
By Chris Bond who is sponsored by Robin Hood Watersports and Point 7 Sails