UK Formula in Holland
19 April 2012
Chris Bond reports from Holland
This years Easter training had a new destination - Holland. Tim Gibson (North Sails, Gaasta), Dave Coles (Gaastra, Starboard) and Chris Bond (Point 7, Gaastra) travelled across the channel for a weeks training which ended with the Dutch Open at the weekend.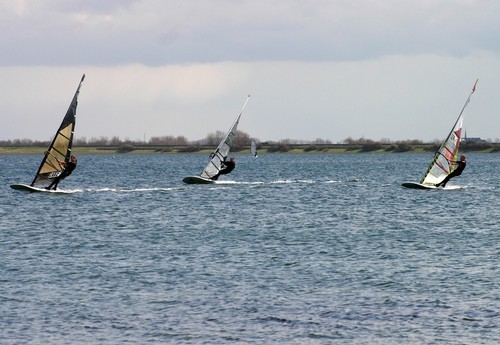 All 3 sailors were trying out new kit at the perfect location of Brouwersdam. Flat water and a good range of wind speeds were offered over the first 3 days which allowed time for tuning and a little friendly competition.
For the weekend it was a change of location as the 3 amigos headed off to the Dutch Open which took place on the Inland sea close to Amsterdam. The highly successful Dutch racing scene combines Formula and Slalom. Formula takes place up until 20knots and anything over that sees slalom take the forefront. This results in greater numbers competing in both disciplines with a large youth fleet keen to make an early step over from Techno. There are thoughts of making a move to this format in the UK and I'm a big supporter of this - more competitors + more races = more fun!!
[Editorial note: If you are interested in this and haven't commented already, let us know in the forum.]
Day one of competition looked as though the wind god had let us down but at 5 o'clock we were on the water for 3 races on 12m sails. The racing was of a very high standard and we finished mid fleet with Dave claiming top spot of the 3 Brits followed by Tim and Chris.
Day 2 was blowing around 25 knots hence slalom. Tim and Dave both had kit for this but Bond had to borrow a board off Tim and survive on an 8.6m, the biggest on the water. None of us claim to be slalom specialists but we had an amazing time trying our best and gaining valuable experience for future events.
The whole week was amazing and the plan is to do more Dutch events this year so keep an eye on the Forum and Facebook for details. Sharing the journey means that it is no more expensive than competing on UK shores.