Pwllhelli Formula Report
29 August 2014
For many the journey to north wales is a long one so with the chance of an extra days sailing due to a good forecast, so many decided to arrive early to get in some much needed practice or tuning of their equipment.
So on that friday the forecasts where correct, the wind was blowing cross offshore and looked to be 11metre weather so out we all went, paired up for tuning runs. Everyone adventured out to find that it was alot windier than first thought. But Dave Coles was smiling with great content as he had cheekily rigged his 10m and continued to banter about comfortable he was! So having learned from this the training continued on slightly smaller sails until it got to beer 'o clock.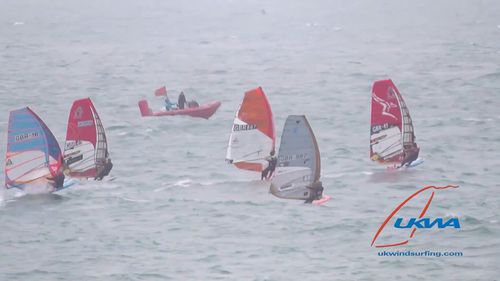 The wind on Saturday blew as forecast, almost identical to the the Friday, if anything at little less. All the formula sailors took great use of the practice and rigged a full quiver of sails so as not to get caught out.
As always there was much debating about what fin this, and what sail that, trying to talk each other in and out of what works best.
But it was now time to hit the water, Race 1 saw some great battles up and down the fleet as every sailor must have been chomping at the bit to get a good race in to spur them on. Bob Ingram was fighting hard to keep the young blood from over taking him as Gustavo Takiguchi and James Battye where trying everything to get past, both sailing brilliantly and keeping up with the fleet.
Jamie Ingram, having made such an effort fighting in the top three made the crucial mistake of forgetting the course so had to retire, handing the win to David Coles and second place to Jason Clarke.
Race 2 was very different with the order changing up a bit, maybe some mistakes or poor luck with the shifty winds. At the top Jamie Ingram and Jjason Clarke where fighting for the top with Jamie taking a close 1st and Jason 2nd. Mr Bond had a better race and beat Dave Coles to third, behind the top 4 the closely fought rivalry of Bob Ingram and Nick Icke was where it was at again.
Race 3, the closest race of the season with the four sailors (Dave, Chris, Jason and Jamie) within metres the whole race. That is until the last leg where rounding the upwind bouy, Jamie decided to use the bouy in a bouncy castle like fashion and then the last downwind saw a lull in the wind as the remaining 3 gybed. Jason got a swift gust to see him to the finish line, leaving Chris to beat Dave with a last minute drag race.
Race 4 was an intresting one for both spectators and the sailors involved. Formula starts can get fiesty at the best of times and very close but this one was epic. Epicly bad. A keen to start from Tristan Banahan was early to the line and ended up crashing next to the committee boat as Jamie and Jason were within crossing distance.
it ended like dominoes, Tristan's sail hit Jasons who had a spectacular catapult out the front door, which wiped Jamie out. This left everyone with a chance to take a good result however the grit and determination of Jamie and Jason saw them cross the line over a minute later and catch the fleet fast. Jason finishing 3rd and Jamie fourth, unable to catch Dave and Chris who were to far ahead who raced closely for 1st and 2nd.
Race 5 was the last of the day which had much more normal start to the last with everyone crossing the line safely. With many of the same pairings fighting for similar positions, the results finished with Jason taking another win.
Sunday
Sunday soon arrived but with no great surprises, the forecast was scepticle and the classic beach chill resumed as racing was postponed untill the wind arrived. At around midday the wind shifted and blew through along with some rough sea, described by some as very egg boxey. These sorts of conditions tend to throw a spanner in the works, or did it?
Race 12 came as a surprise as Jason who sails mostly on a lake due to being so land locked, not proven to be as good as others in these testing conditions came out and won by a good margin. furthermore nick icke showed up in full force and was charging round the course with great speed and angle, and the surprise of the day was Graham Baster taking 6th place.
Race 13 was the last of the weekend due to dropping winds and a strong tide making planing very difficult, but this didnt stop gustavo takiguchi taking his second best result of the weekend in some challenging conditions for a relatively new sailor. business was usually at the front with Jamie taking first and Jason second, with Dave beating Mr Bond and a closely behind Nick Icke.
With the weekend over and everyone in high spirits after another great event, the formula fleet look to the last cup event in gosport. who will come out on top jason clarke, chris bond or dave coles? will nick icke continue to show his promisng pase to keep bob ingram at bay? the battle of the youngsters, james and gus? its all to be decided with an all thrills last event.
Until then the National Inland championships at Rutland awaits!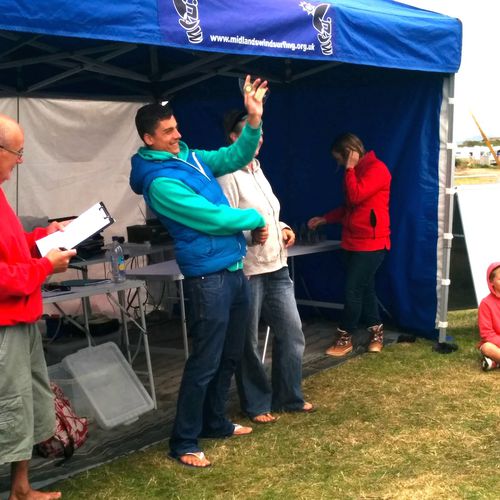 Final results
Jason Clarke (Patrik Diethelm, Severne, Z Fins)
Jamie Ingram (Starboard, gaastra, Deboichet)
Dave Coles (Starboard, Severne, Z fin/Virus)
1st Youth: Gustavo Takiguchi (Starboard, North, Deboichet)