UKWA Windsurfer of 2013
2 January 2014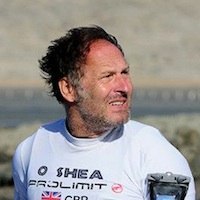 The competition was tight from the five nominees' with the lead changing many times. After a two month public vote the UKWA Windsurfer of the year has been decided.
The winner is, speed sailor Farrel Oshea. A well deserved winner, as he is a very popular character and one of the most dedicated speed sailors on the planet. His relaxed approach to life masks his steely determination to go as fast as possible. Farrel's current official record is 48.82 knots, (just over 56 mph). Set in Luderitz, Namibia. He is the current official British national record holder and this speed puts Farrel, 9th fastest windsurfer of all time.
He has always been a natural on a board and had legendary status back in the day as an international wave sailor sharing his time between Fuerteventura and Maui. But speed was always his passion and he entered his first speed event at Weymouth in 1984 almost 30 years ago. This award pays tribute to he achievements over the last 12 months and his dedication to a lifetime of windsurfing.
Bob Ingram UKWA Chairman said:
We are very happy to awarding this Trophy to Farrel as he and the nominees are given the just recognition they deserve for their achievements over the last 12 months. The nominees Ross Williams (Slalom) Kieran Martin (Racing) Max Rowe (Freestyle) and Robbie Swift (Wave) were all well supported and deserved there place on this years list. We wish them all a successful year in the sport and hope they do well enough to be nominated again in 2014.
Final word goes to the man Himself Farrel Oshea
I am honored to have been voted UKWA windsurfer of the year. Especially as it was decided by public vote, which is recognition in itself, I personally voted for Kieran Martin as he is the youngest and an upcoming star. The youth in our sport is the future and need as much encouragement as possible to take Windsurfing onwards and upwards. I intend to use this award to try and encourage more young people to enter out sport and motivate them to go on to be the best they can be. Hope to see you on the water some time this year.