Bridlington Formula Report
11 June 2015
Round 2 of the National Championship took place at a sunny and very windy Bridlington. Sadly the fleet was missing the defending champion, Jason Clarke, who, due to problems concerning obtaining kit this season, had made the decision to switch to slalom. Good luck to him and he will be missed both on and off the water.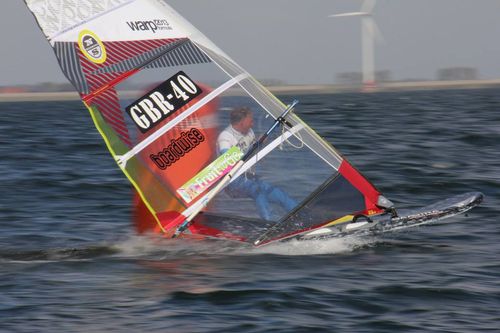 Saturday - not too much to report here other than there was a 29-37 knot wind blowing. An attempt was made to start a race but it as quickly decided that the wind and the water state were not Formula friendly so that was it for Saturday. Dave Coles and Tim GIbson do deserve credit for actually making it to the start line in such conditions.
Sunday - sadly the wind gods were once more against us only allowing for 1 race to be completed and another abandoned not long after it had started.
In the one race that did get completed, Tim Gibson was the winner who led for almost the entire race. He was closely followed by Dave Coles who in turn pipped Chris Bond on the final leg to the finish line. James Battye won his battle with Bob Ingram to claim 1st National 11.
Whilst it looked like we were going to be in for a great mornings racing the conditions became far to patchy with huge lulls that left most of the fleet not planing. It was for this reason that the next race was abandoned and that was that.
Results
1st Open and 1st master Tim Gibson (North Sails, Gaastra/Tabou, Z-Fins)
2nd Open and 1st Veteran Dave Coles (Starboard, Severne)
3rd Open Chris Bond (Point 7, Gaastra/Tabou, Z-Fins, Robin Hood Watersports)
1st National 11 and 1st Youth James Battye (Severne, Starboard, Juice Watersports)