Pwllheli Formula Report
3 September 2015
Strong winds had been blowing all week in North Wales so the Formula fleet were expecting a bumpy ride at Pwllheli. Only one day of wind was forecast so everyone was keen to make the most of Saturdays conditions.
The fleet awoke to a pretty steady 15-20knot wind and the sun was shining. The only slight worry was the choppy sea state and a pretty unfriendly shore break. Once on the water there was more than just the chop to deal with, annoyingly there was also a substantial amount of seaweed. Two races were completed prior to lunch in what was to be the strongest wind conditions of the day. Race one saw Tim Gibson take an early lead but he was overtaken on the 1st downwind by Chris Bond who didn't look back to take the win ahead of Tim and Dave Coles. This top 3 dominated proceedings with the rest of the fleet not being able to match the pace but they keenly contested the lower rankings, frequently exchanging places. The only exemption was sadly Harry Sharrock who had been taken out by the shore break, demolishing 6 battens in his sail.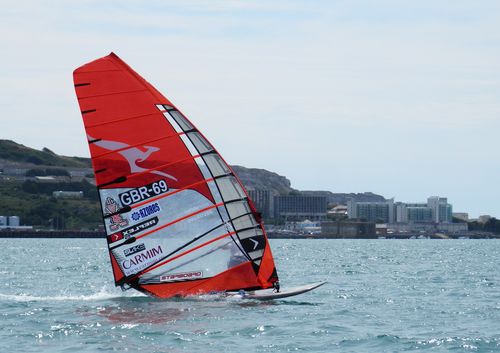 Race 2 was won by Dave and although Chris was nicely set up for second, he hit a large clump of seaweed and went not so elegantly over the handlebars paving the way for Tim move in. This 1,2,3 was the blueprint for the next 3 races. Dave was flying with Tim hot on his heels. Tim thought he'd get a win in race 3 with Dave and Chris crashing on the start line. However the wind gods were not on his side as once the crash victims had recovered they enjoyed a huge lift - a little harsh on Tim who probably merited a win on the day.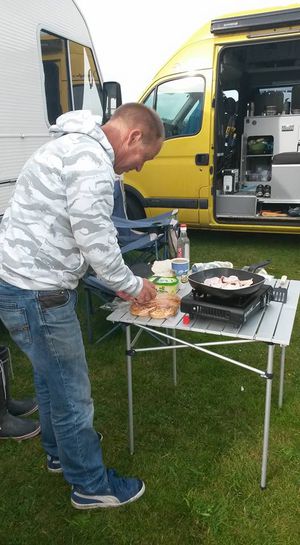 Fourth place fiercely contested between James Battye, Jenna Gibson and Bob Ingram. Jenna often lead for the majority of the races but was reeled in by James with Jenna cursing the dreaded seaweed. Bob had opted to take out an 8.6 and probably could have done with a bit more power. Tristan Banahan made good strides further down the fleet with Ellie Gibson showing youths from other fleets that a Techno sail works perfectly well on Formula board.
Dave has now taken the lead in the overall rankings and must be favourite for the title with only one race remaining at Stokes Bay.
Results
1st Dave Coles (Severne, Starboard)
2nd Tim Gibson (North Sails, Gaastra/Tabou, Z-Fins, Boardswise)
3rd Chris Bond (Point 7, Gaastra/Tabou, Z-Fins, Robin Hood Watersports)
1st Youth & 1st National James Battye (Severne, Starboard, Juice Watersports)
1st Female Jenna Gibson