Slalom or Racing?
18 September 2015
The National Windsurfing Festival had another great event this year, see it unfold on Facebook. A question we often get after the event is:
"I have just come back from the National windsurfing festival and I was thinking about taking part in some other windsurfing racing, as I would like to race more than once a year.

I just have a few questions:
- What's the difference between slalom and race events?
- What memberships and insurance would I need?
- What does it cost?"
Slalom Or Racing?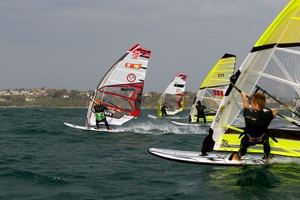 Slalom is the most similar to the National Watersports Festival (NWF) format, and two types of entry:
Master blaster: very similar to the NWF where everyone launches from the beach, goes out to a bouy, and first one back to the beach wins. Anyone who can windsurf can enter this on any kit, so long as you are happy to sail in the conditions.
Slalom: As an Amateur or Pro, these fleets start on the water and go around a figure of 8 or downwind slalom course. This takes a bit more experience and you should be reasonably confident in carve gybing.
Find out more about the slalom.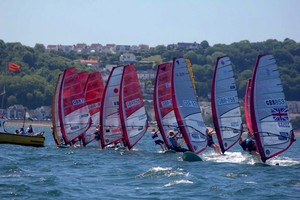 Racing is around a (usually) upwind / downwind course, generally on more specialist kit such as 'Raceboards', the Olympic RS:X board, Techno One design (for under 18s), or 'Formula Windsurfing' kit.
If you are interested but new to racing it is probably best to start at one of the regional events rather than going straight to a national event.
Find out more about Racing.
NB: Yes, technically slalom is a form of racing, but we use the term racing for "course racing", going around an upwind/downwind course rather than the more blasting-oriented slalom events.
Memberships & Insurance
If you want to come and enter the Master Blaster fleet at a slalom event, you don't need to be a member, however, there is a £10 charge to cover insurance (on top of the £30 entry).
For all other fleets and events you have to be a member of the UKWA, which includes 3rd party insurance for competing (Europe wide). There are also many other membership benefits. Membership costs £45 per year (£30 for youth/students, or £60 for a family).
More about membership.