Stokes Bay Formula Report
10 October 2015
Stokes Bay hosted the final race of the UKWA national championships and it delivered. Dave Coles went into the weekend with a 6 point lead but had both Chris Bond and Tim Gibson keen to try and make him work hard for the title.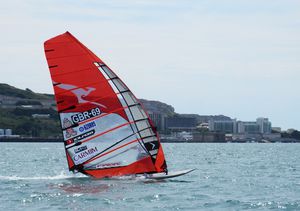 Day 1 was predicted to be a day lazing on the beach but late in the afternoon a steady breeze kicked in and the formula fleet was called out. Tim was quick out of the blocks showing great form to take the 2 races. This meant that he had drawn level on points for second overall and was edging closer to Dave but he now looked comfortable with the wind only forecast for the afternoon on Sunday.
Day 2 The forecast was deadly accurate on Sunday and the fleet had to wait until noon before heading onto the water. Yet again it was Tim who was the man on form and he took the 1st race. One more race was completed before competitors came in for a break and it was a relieved Dave Coles who took the race ahead of Chris who snuck in the back door just ahead of Tim. The wind picked up a little during the break and Tim made sail and fin changes whilst the rest of the fleet decided to remain unchanged.
The final 2 races were both won by Chris Bond which was enough for him to safeguard his second overall position for the season. Every race was close with not one point separating the top 3 for the event. James Battye showed good form and consistency and can consider himself unlucky not to have had one top three finish over the weekend. He was however, comfortable youth and National 11 champion for the event and overall. The top 3 places for the event had to settled on count back and it was Tim that took the honours with Chris in 2nd and Dave in 3rd.
So that was that for another great season of racing. Huge congratulations to our new champion Dave Coles and all those that competed this season. Next season bodes well with plenty of new young faces on the scene and hopefully more to come.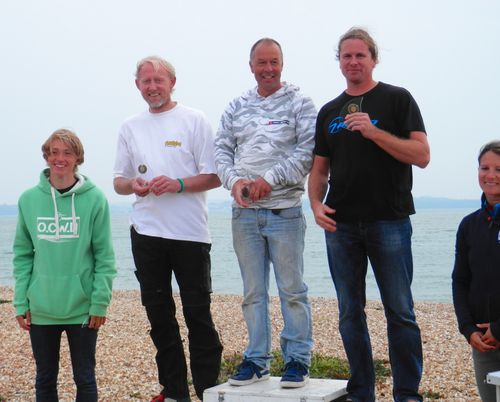 2015 UKWA National Championships Overall Results
1st Dave Coles (Severne, Starboard)
2nd Chris Bond (Point 7, Gaastra/Tabou, Z-Fins, Robin Hood Watersports)
3rd Tim Gibson (North Sails, Gaastra/Tabou, Z-Fins, Boardswise)
1st Youth & 1st National & 4th Overall James Battye (Severne, Starboard, Juice Watersports)
2nd National & 5th Overall Bob Ingram (Gaastra/Tabou, Starboard, Z-Fins)
1st Female Ellie Gibson