Windsurfer of the Year - 2008
Winner - Andy 'Bubble' Chambers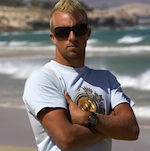 Only 25 years old, Andy 'Bubble' Chambers has steadily been building up his freestyle repertoire working for Club Vass and sailing at some of the best freestyle locations in the world. Despite the level of freestyle having rocketed this year once more, Bubble has managed to keep up, carry on learning and post a 10th in the PWA Freestyle competition in Fuerteventura. Still young and fast learning, he may yet end this season on even more of a high.
After 2 months of voting the winner was presented by Bryony Shaw, Olympic bronze medalist and last years winner of windsurfer of the year. Andy "Bubbles" Chambers won on night but unfortunately was not able to attend as he was in Brazil competing. He sent a Video from the event to the evening saying a big thanks and that he was really taken aback on winning and thanked everyone who voted for him.

His Trophy was accepted by his Sponsor, Neil Pryde representative Chris Lewis who dressed up in surf gear and put his hair in Andy's trademark Mohican style.
Other contenders in 2008
Farrel O'Shea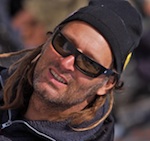 Legendary Simmer importer and speed sailor, Farrel boasts that he was on the water when the 20knot barrier was broken and few doubt that he'll still be on the water when the 50knot barrier becomes history. After Dave White held the UK National Speed Record for twelve years, it was in 2008 that Farrel struck back to post 44.34knots and seize the record for himself.
Ross Williams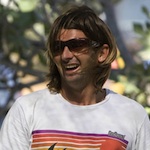 Never one to seize the limelight, Ross Williams has been thrust into it this year after a stunning series of international results. Competing solidly in the PWA wave tour, he pulled a 15th out of the bag at Cape Verde and has climbed irresistibly up the slalom ladder, from 16th in Costa Brava, posting a 4th and 5th in the Canaries, to reaching the podium and 3rd place in the last slalom event at Alacati. Lest you forget, a consistent formula competitor, Ross is also European Formula Champion 2008.
Robby Swift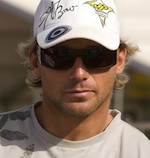 Robby's success and rise through the PWA ranks has been well documented, however after two foot injuries that necessitated a long period of absence from sailing and training, it has been in 2008 that Robby's made his come back on the world tour. Scooping a surprise fourth place in Cape Verde, Robby's transition from freestyle to slalom has not been easy, however he's stuck at it and currently lies in 5th place overall in the PWA Wave Championship.
Previous Winners