Windsurfer of the Year - 2010
Winner - Izzy Hamilton (Racing)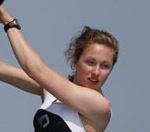 Popular Skandia team GBR sailor Izzy Hamilton has made great leaps forward over recent years. Izzy, a product of the RYA pathway having had a successful career on Techno and now sailing on RS:X is a prolific achiever at National level. In 2009 Izzy was crowned RS:X Youth World Champion and in 2009 & 2010 Izzy won silvers at the Volvo ISAF Youth World Championships, recently she made the Medal race at Sail For Gold 2010. Izzy is now pushing previous WOTY winner Bryony Shaw very hard and continues pushing for top international honours. Course racers are always a popular choice for this converted award, so she is a definite contender.
Izzy Hamilton is the UKWA 2010 windsurfer of the year, this was her acceptance speech at the prize giving:
Other contenders in 2010
Robby Swift (Wave)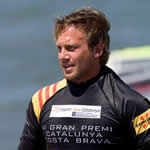 What a season for Robby Swift again this year. A lot of hard work and training during the winter season in Maui has obviously paid off. In the PWA slalom Robbie has worked his way up through the rankings despite a height and weight disadvantage against the big guns. This has all been down to sheer determination and perseverance. But it's the waves where Robbie has really stood out. Last year 3rd place overall and is currently lying 6th with two events to go in the PWA 2010 tour. Don't let his good looks and talent put you off voting for him.
Ross Williams (Slalom)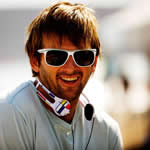 Ross started the season with a 13th place but this unlucky number didn't put him off at all and he followed it with a 5th and 6th place at the next two PWA Slalom events. Ross hailing from the Isle of Wight has never been far off the pace over the last five years and demonstrated that he has the capability to challenge Albeau, Maynard and Dunkerbeck at the top. He is a quiet unassuming character but with buckets of talent currently lying 9th overall with events to come. He definitely deserves a lot of votes.
Steve Thorp (Speed)

Thorpy as he is known has been speed sailing since God was a boy, but you wouldn't know that looking at him. He looks about 12! Not a natural build for a speed sailor he is only 5' 10" and 75kg but that defiantly doesn't stop him. Currently ranked top 15 in the all time world gps ranking and number 2 for 2010 (He was leading for most of the year) with a gps max of 47.4 Knots and a 44.27 Knot 10 second average at Southend. Steve's main advantage in speedsailing is he has no regard for his personal safety and for that ball's out attitude alone he deserves your vote.
Max Rowe (Freestyle)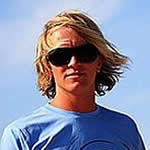 The new rising star of Freestyle Max Rowe from Colchester is impressing all who watch him perform. He has had a tough season this year on the PWA freestyle tour. Missing the 1st event of the year and going out in the first round of the 2nd event but managed to beat Andy Bubble Chambers in Fuerteventura with some very impressive sailing and finished 11th. Max was nominated last year and did well so he obviously has a
Previous Winners