Windsurfer of the Year - 2014
Winner - Ben Proffitt (Wave)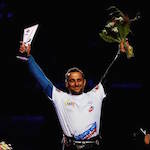 Ben is probably one of the best known British wave sailors for his cheeky wit and big smile, which often masks his competitive side. Part of the Simmer international team, Ben has been a top performer in the waves in 2014. With results this year including 5th place in the PWA wave indoor event (highest ranked britt), 1st in Slalom at the same event (proving he is not a one trick pony) top 15 overall PWA and 2nd in the BWA overall (a 3 times previous winner).
But Bens biggest contribution in 2014 has been without a doubt his massive promotion of wave sailing in general, not just here in the UK by attending events and competitions the length and breadth of the country. But internationally too, with his hilarious "Bens training diaries" and his informative live commentary on the PWA. This Is what makes Ben, the wave teams choice for Windsurfer of the year.
The voting was definitely very close with the lead changing 3 times over the eight weeks of voting. But in the end a very popular winner Ben Proffitt came out on top.
He will be handed the trophy by last years winner Farrel Oshea and join a long line of previous winners including Nick Dempsey, Bryony Shaw, Zara Davis and Izzy Hamilton to name but a few.
What Ben had to say when he found out.
"Awesome news thanks …to be honest if I'd lost to Emma Wilson I really wouldn't have been upset as she had a great achievement this year winning the worlds! But I'm super happy to win, for me I won the biggest thing I could have won this year and something I'd dreamed of as a kid growing up.

Standing on the top of the podium in the Indoor really was special and something that doesn't happen very often. So winning the UK windsurfer of the year award really is the icing on the cake for a great year for me.

Thanks to everyone that voted for me and that have supported me all year, you've all helped heaps. Also a massive thanks to my Sponsors Simmer Style, Oshea, Doppstadt and funsport for all the help over the years and last but not least my parents who got me into this amazing sport and drove me around in the early days. I'm not really sure where I would be today with out all your help, thanks.

Fingers crossed for a bigger and better 2015! …Or more of the same would be good to!"
All the nominees agreed it was a great honor to have been nominated for the award in their respective disciplines and appreciated the support the public gave in voting for them.
Other contenders in 2014
James Dinsmore (Slalom)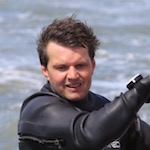 During 2014 James and his wife became the proud parents of a baby girl. Added pressure one may think on the shoulders of the BSA 2013 Slalom Champion in the defense of his title. James not only lead the way in the slalom rankings but his enthusiasm at every level goes to prove he is a real credit to the sport. His knowledge is second to none and attention to detail is paramount with his Starboard and Severne equipment his weapons of choice.
Some may keep this knowledge to themselves, to strengthen their position, but not James, he is to be found between races, encouraging others to echo his achievements. After a fiercely competitive season it was the gentleman of the fleet James who proudly stood on top of the podium to take the BSA Slalom title for a second year his first thoughts were to thank everyone involved in providing the series but most of all his new family.
Emma Wilson (Racing)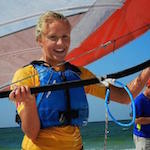 Course racing is tough. Its not enough to be talented in high winds, or talented in low winds, a course racing champion must be a master of all conditions getting the best out of their RSX boards and sails, a true athlete shows immense determination and strength of character, oh and yes you may just need to do this at a very young age. One of the most difficult things to achieve in any sport is to follow in the footsteps of a famous parent.
For Emma Wilson she must follow where her mother Penny Way a former Olympian once walked. Well lets be clear, Emma has stood tall and at just 15 years of age could do no more than bring home titles in two age groups at the RS:X Youth World Championships. It was not enough to be crowned under 17 Champion, Emma also took the under 19 title proving she is years ahead of the game and proudly standing on top of the podium.
Jim Crossley (Speed)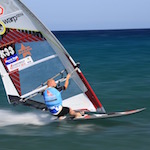 Jim is a quiet character, which masks his steely determination when flying mac 10 on his slalom or speed board. He is also a real technician who analysis his technique and equipment constantly to ensure he is getting the maximum speed from every run and is happy to share this information on his Blog. This determination and attention to detail has given Jim this year some of his best speed results.
He won the Southend Speed Weekend with an incredible 44.29 knots over 500m the fastest of the year and second fastest of all time by a British man on British waters. A fantastic result as Jim is normally a 10 second (Shorter distance) GPS specialist. He then went on from this great result to enter the ISWC European Championships in Fuerteventura run by Bjorn Dunkerbeck. Finishing 8th overall and highest placed Brit. Jim is also on the National team for Fanatic, North and Moo customs.
Max Rowe (Freestyle)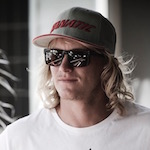 Max has been freestyling since he could sail a windsurfer. Honing his skills for many years with Club Vass and working his way through the PWA rankings. Joining Fanatic, North a few years back as a international team rider he has gone from strength to strength and in 2014 his performance in PWA events around the world has put him in 14 place overall with a 9th place in Sylt. He is a great personality and very good team player giving up his time freely at both the Junior and National NWF events this year.
Both on and off the water Max shows maturity beyond his years. He is also a big part of Fanatic North's Freestyle R&D Team where he does a great job testing and developing new products for future generations.
Previous Winners